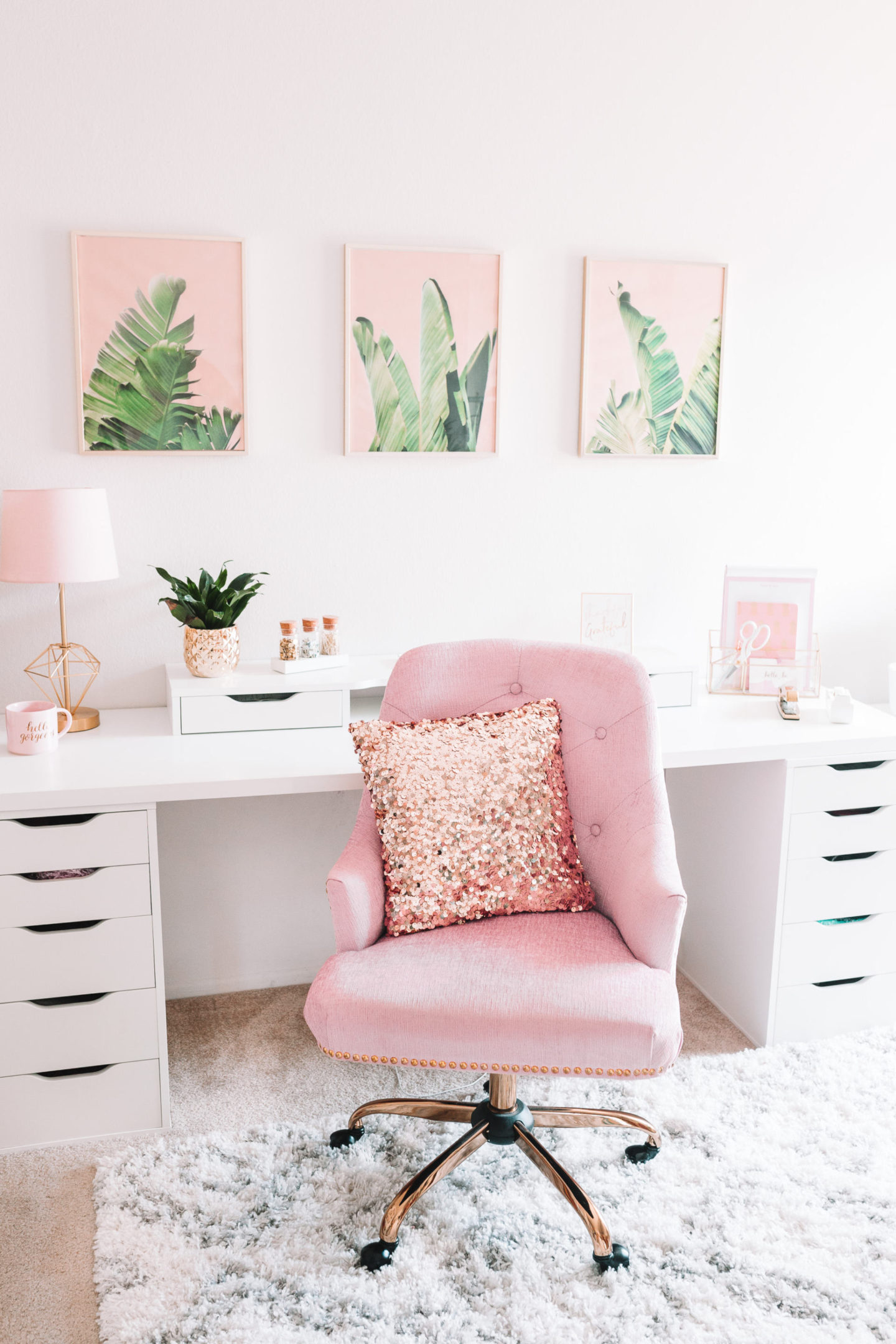 It's finally here! Of all the home tours I've been waiting to share of our apartment, my pink and gold home office is the one I've been most excited about! It's by far the most asked question I get on a weekly basis! When I first moved into my apartment I was so excited to have an empty space to work with. It also meant that I spent countless hours moving furniture and desk accessories around for months before I was completely happy with the space! Decorating is one my biggest passions so it's safe to say that I always like changing things up a bit.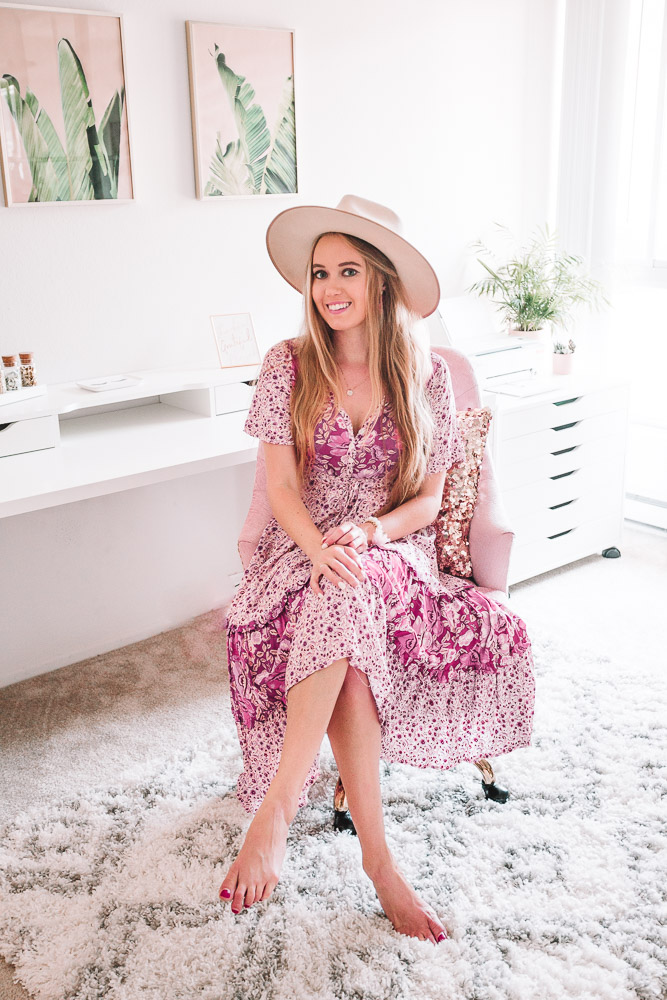 Create a Space that Motivates You
My goal for this home office was to have a space where I could feel happy, productive and motivated. I wanted to add a Southern California vibe to the room by adding tropical palm print leaves, a cactus and succulents. Rather than having one large wall art print, I chose a set of three. It just seemed more unique and more spaced out since the desk was huge and I wanted it spread out across the wall. I'd like to think of the style of the room as a bohemian chic pink and gold home office.
If you look at my Pinterest boards, you'll see that most of my branding aesthetic is bright and airy, so thank you Pinterest for helping me out here! I love the clean, bright feeling when I wake up and sit down to work each morning so I focused on keeping the white walls and bring in white furniture.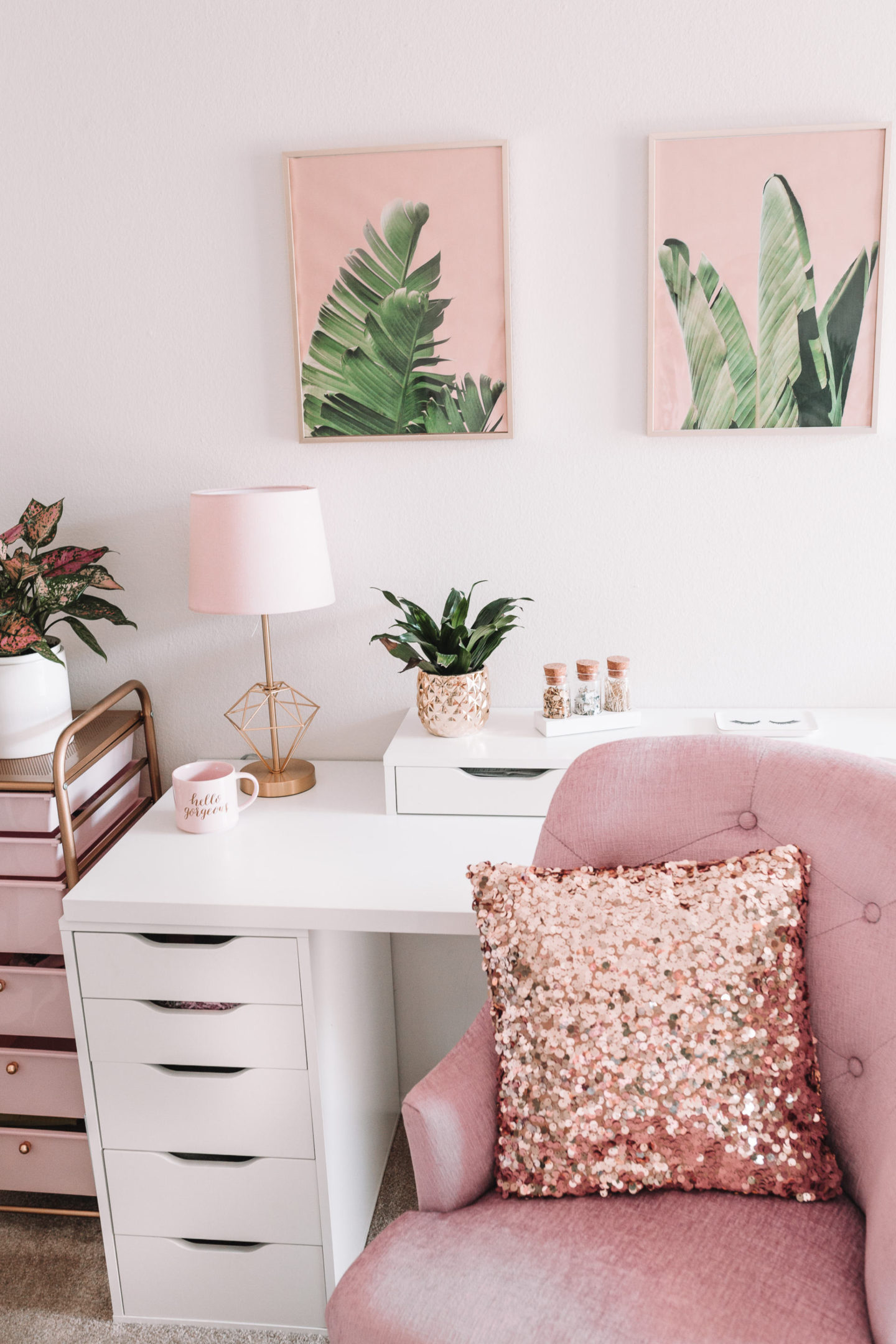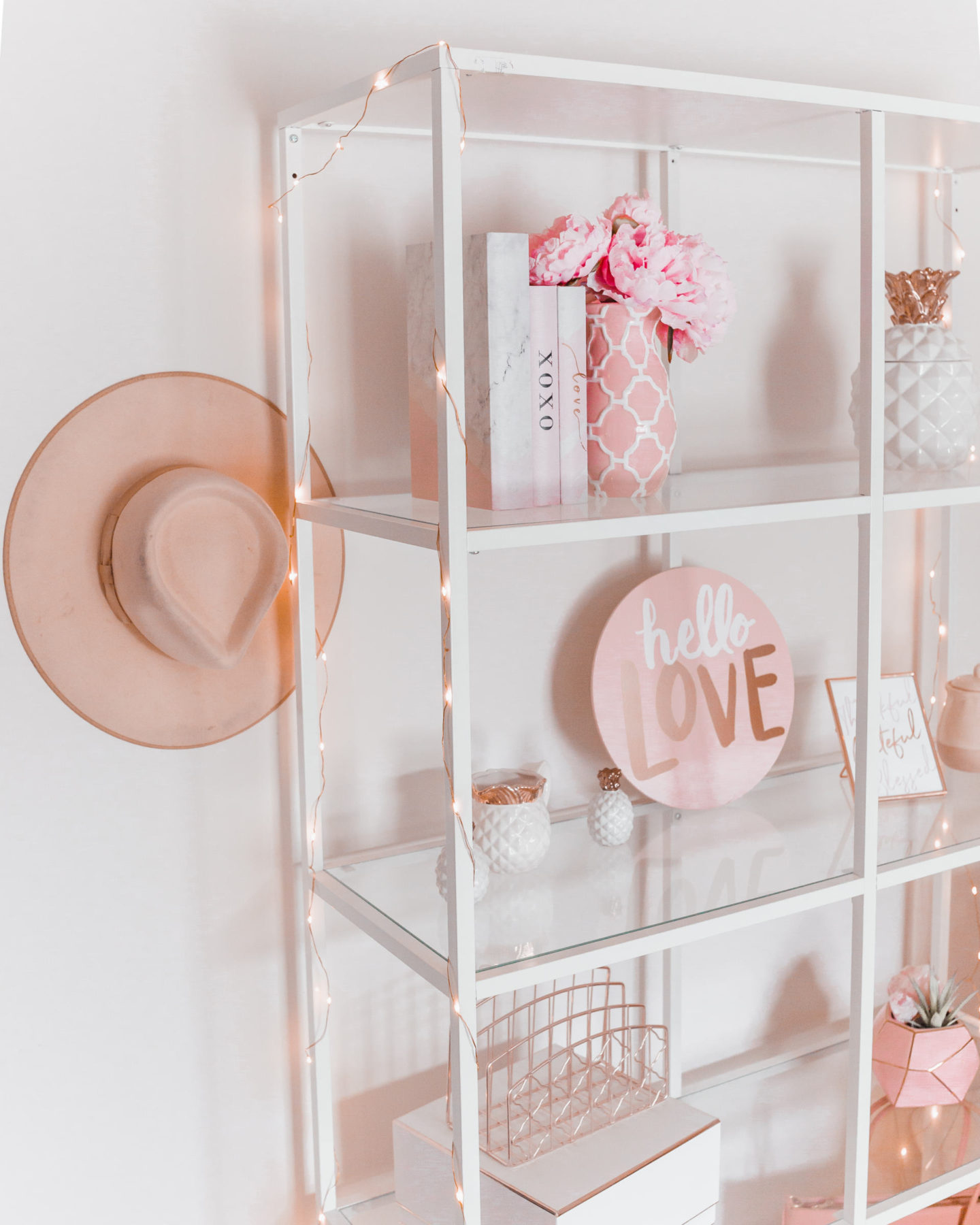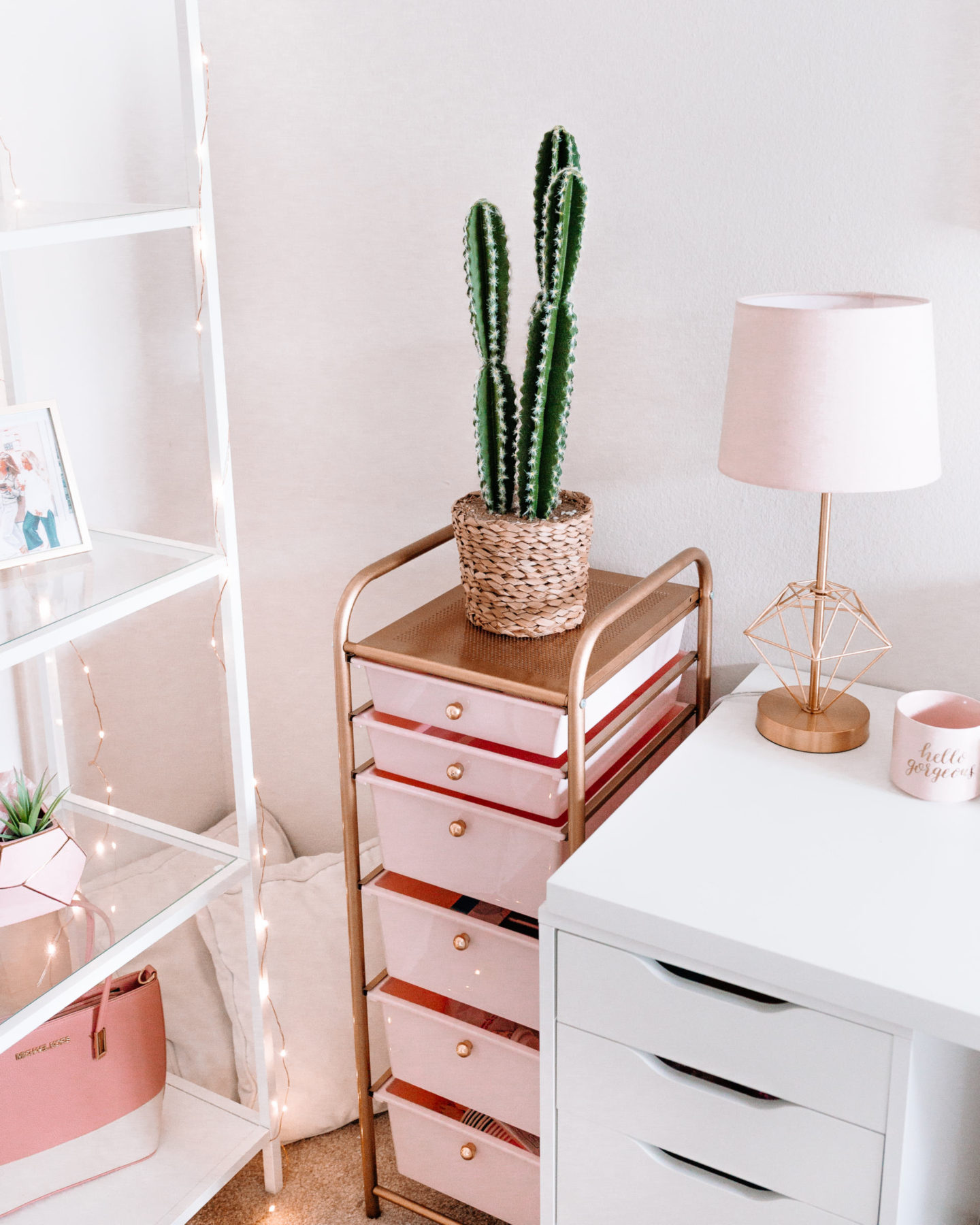 Shop the Post: Drawer Cart (white/gold) – the pink is nowhere to be found, I got it at Home Goods!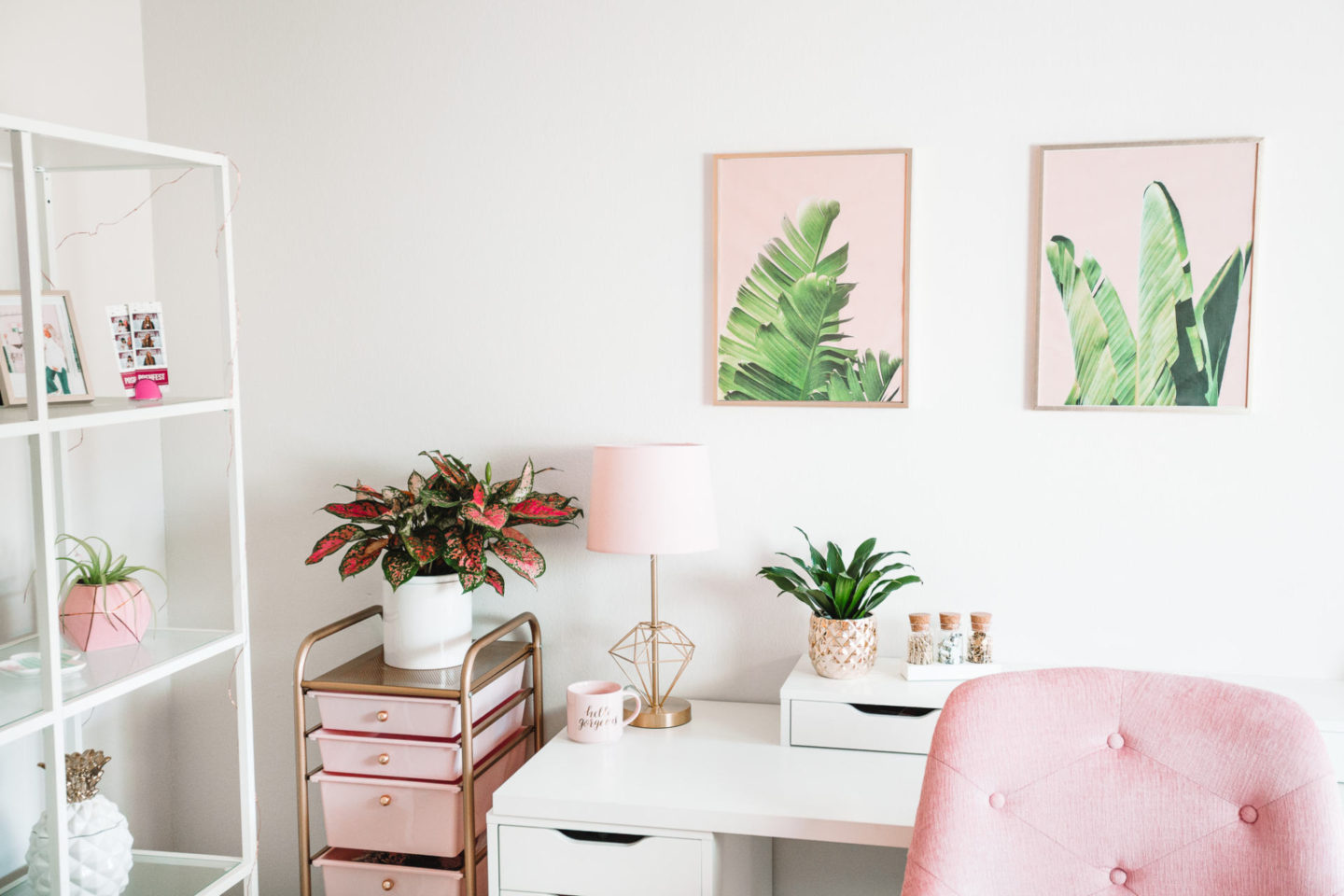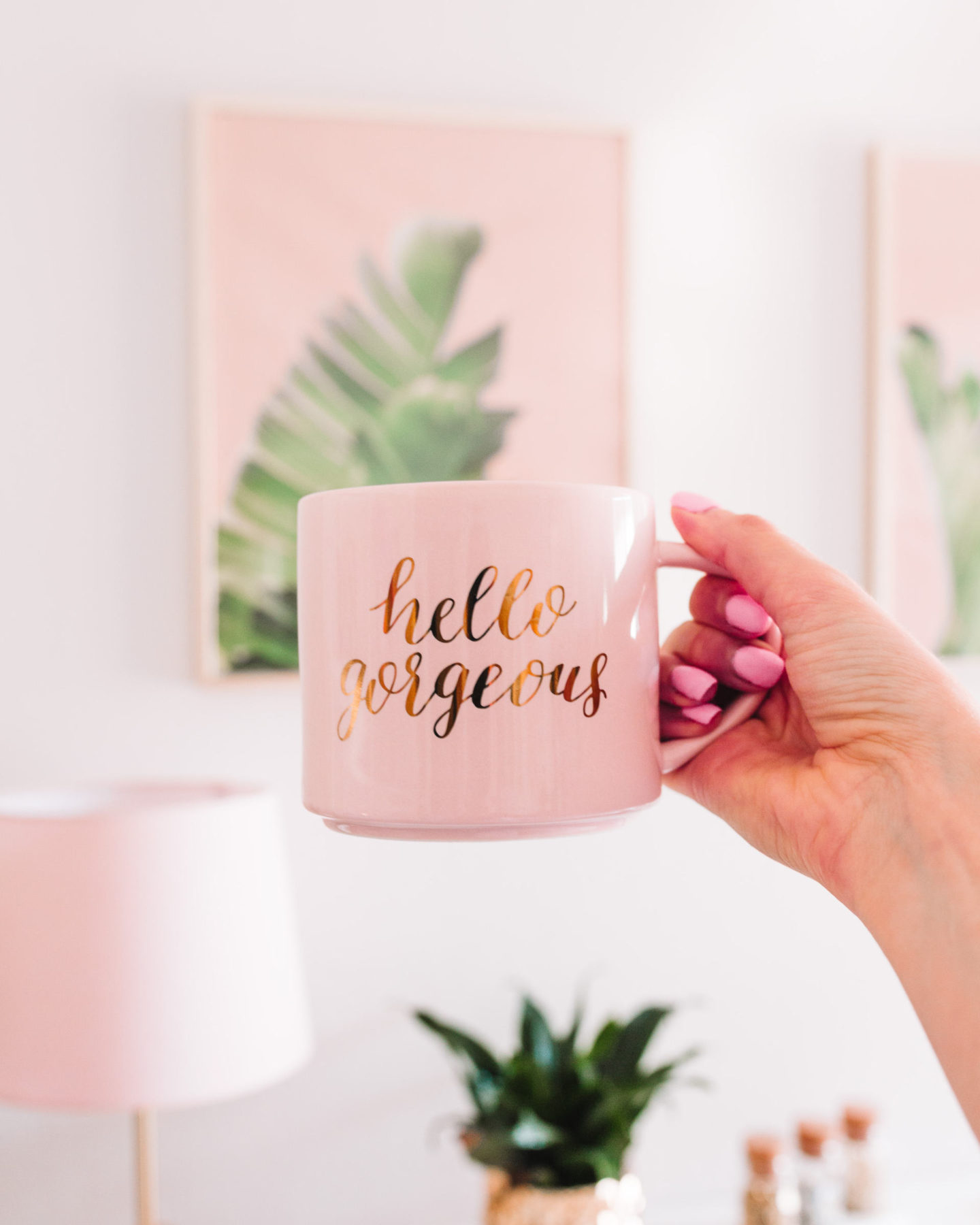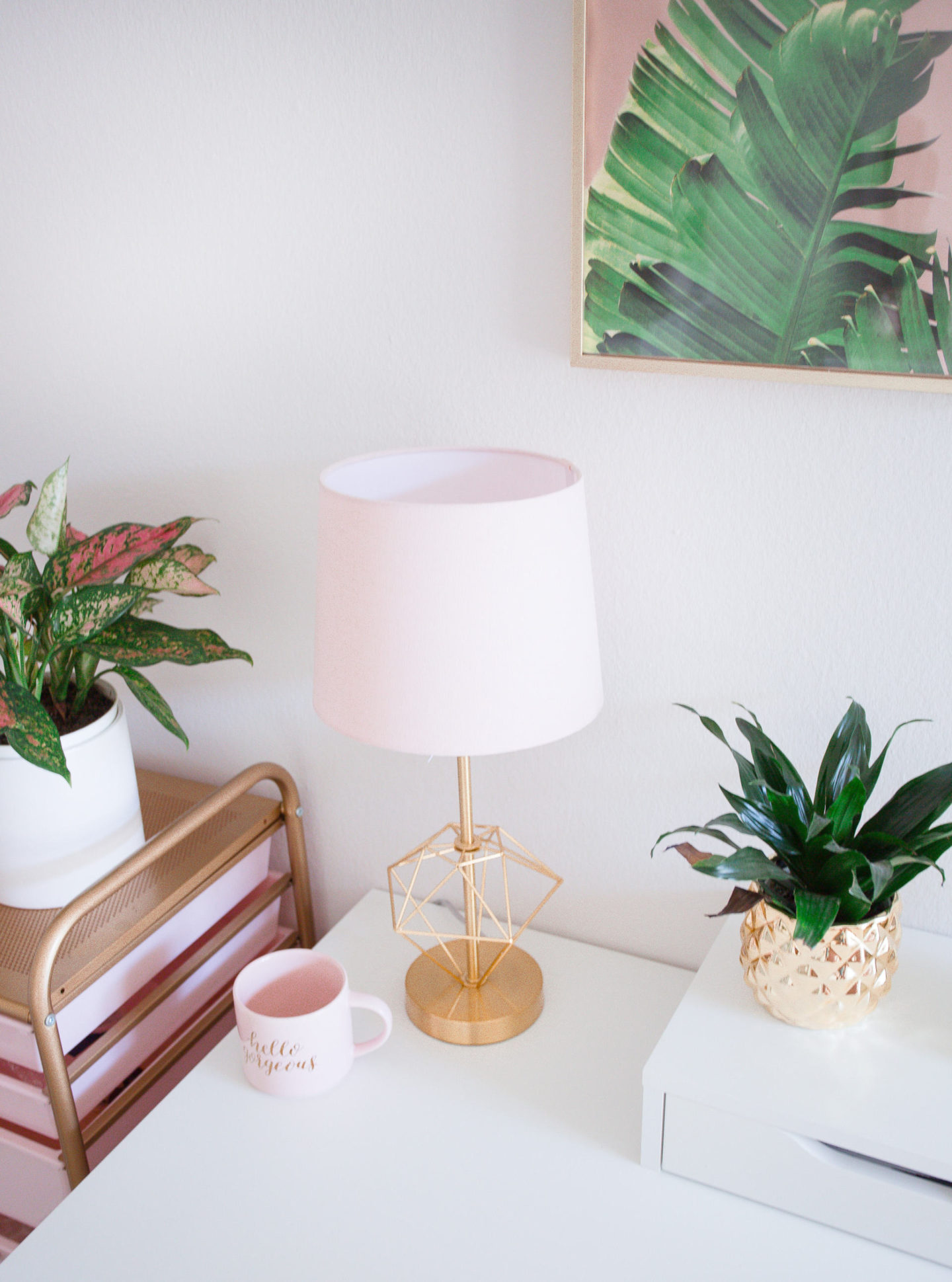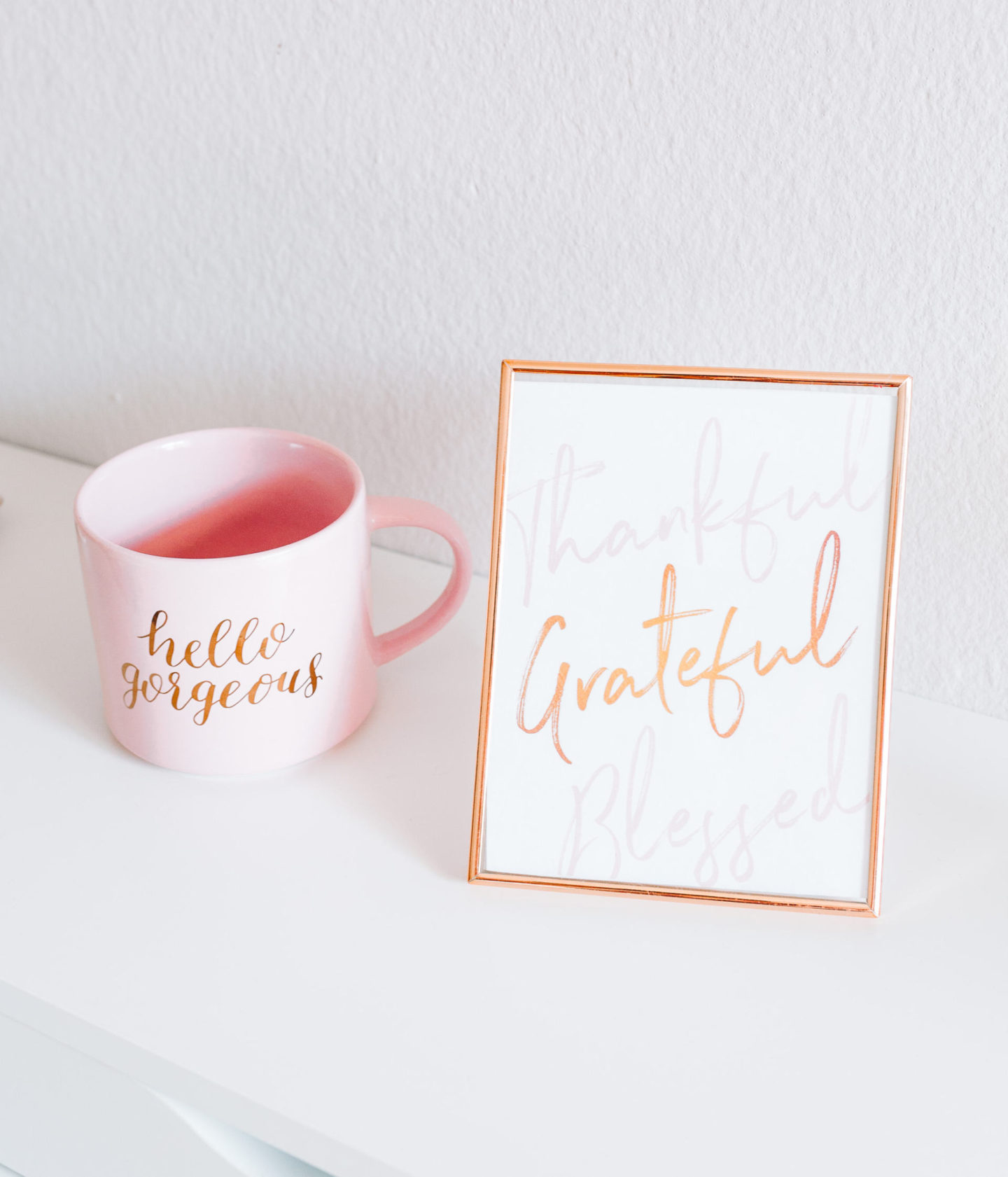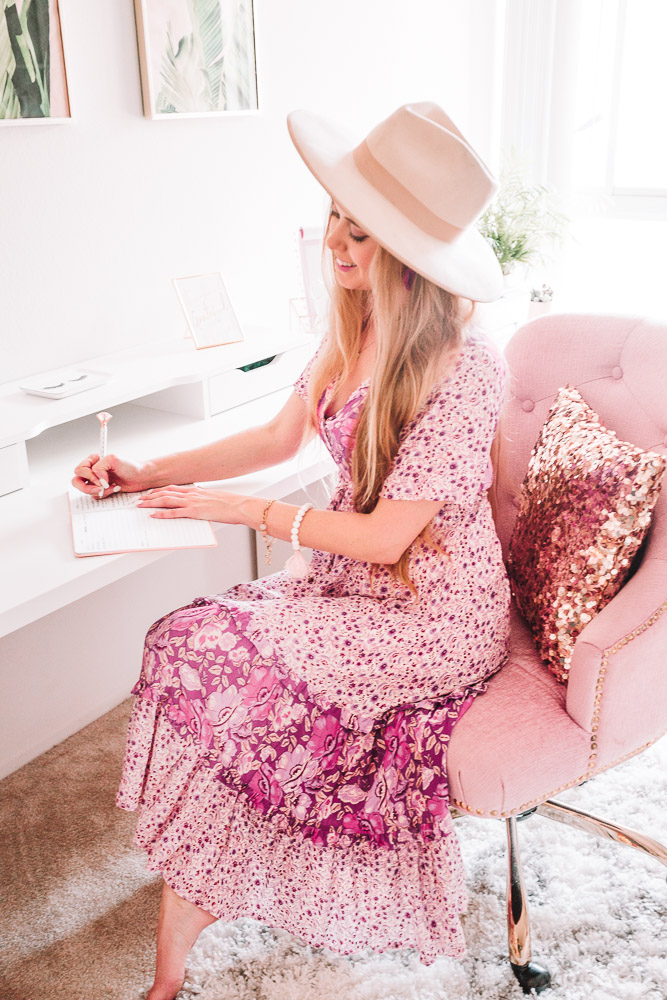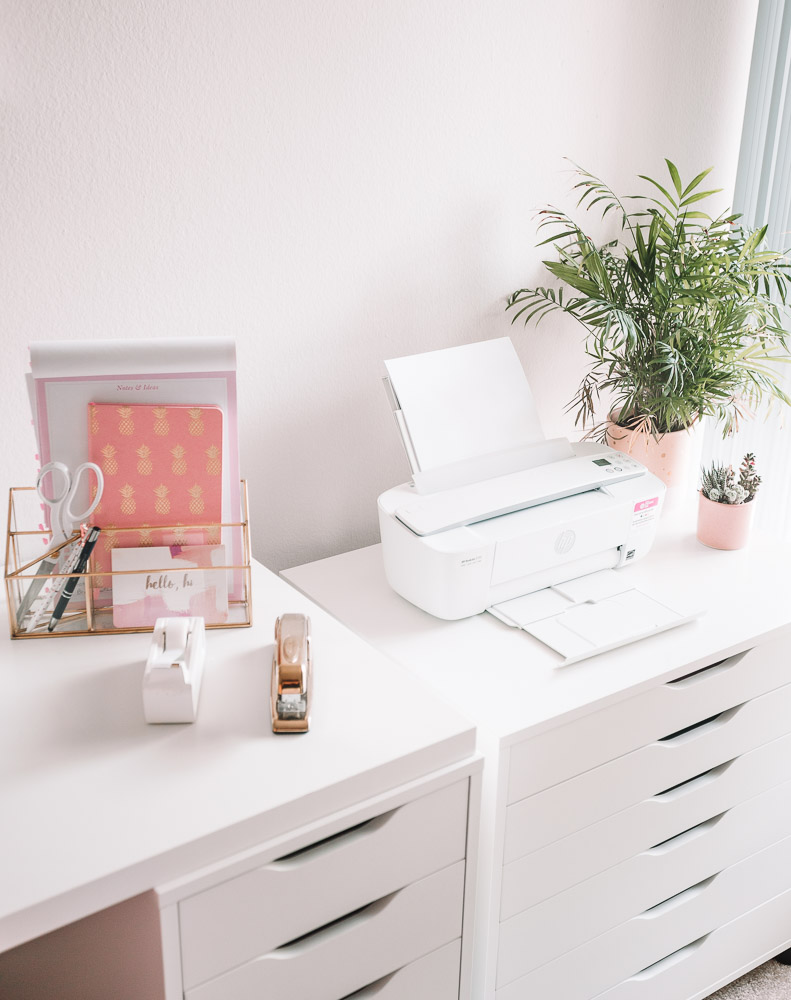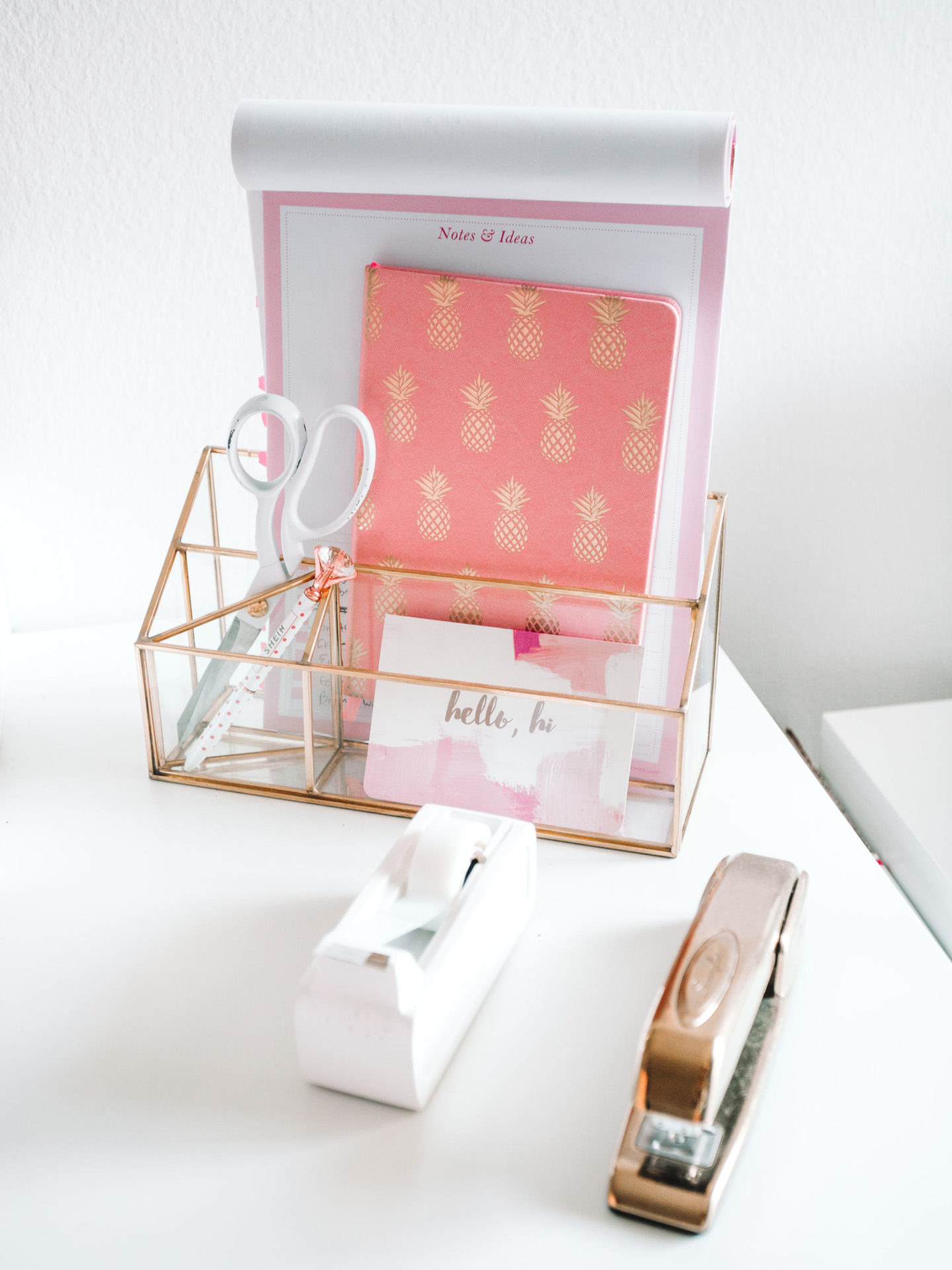 My Favorite Feminine Desk Accessories
Some of you may know that in addition to blogging and graphic design, I have an online boutique and wholesale business that I run full time through the Poshmark app. If you've never heard of Poshmark before, it's a social platform where you can buy and sell clothing. I've been running my business on it for 7 years now! I ship a lot of clothing and accessories on a daily basis, so having an organized work space is crucial. I chose the Ikea Linnmon/Alex Desk for all of my shipping and random office necessities because it has an ample amount of storage space.
These include business cards, thank you notes, Poshmark stickers, pens, pencils, shipping confetti, packaging tape, tissue paper, etc. When it came down to deciding which desk accessories I would pick, I wanted to make sure that everything blended and went with my relaxing chic theme. I opted for a mix of white, pink and gold. I even picked out white and gold paperclips and tacks!
Staying on Task
Who else loves a good planner? Staying on top of your to-do list is no easy task, which is why I LOVE using these monthly, weekly and daily planners from Bliss Collections.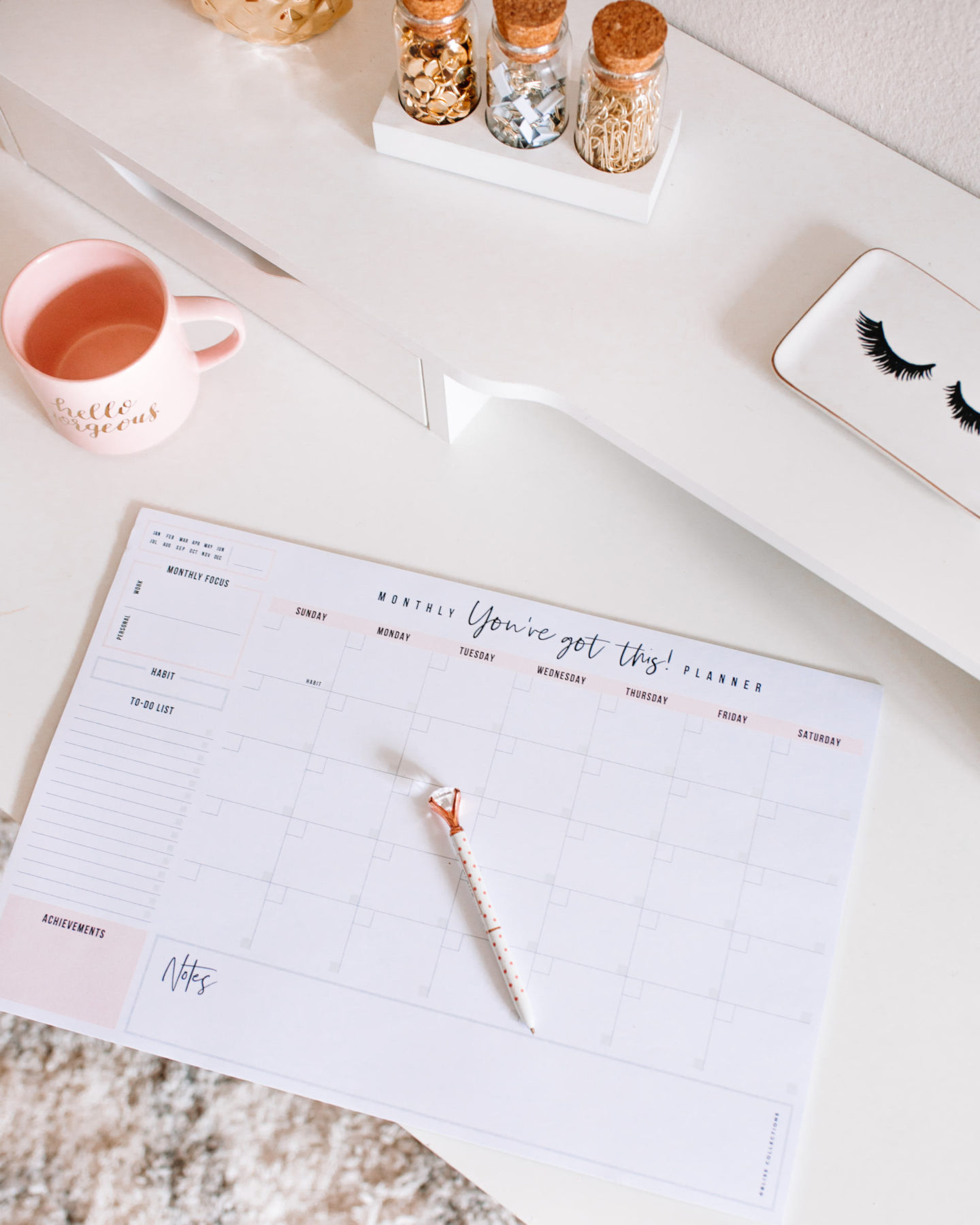 Shop My Poshmark Closet
Click HERE to shop my Poshmark Closet! @JENANGEL89 on the app. Sign up free using CODE: JENANGEL89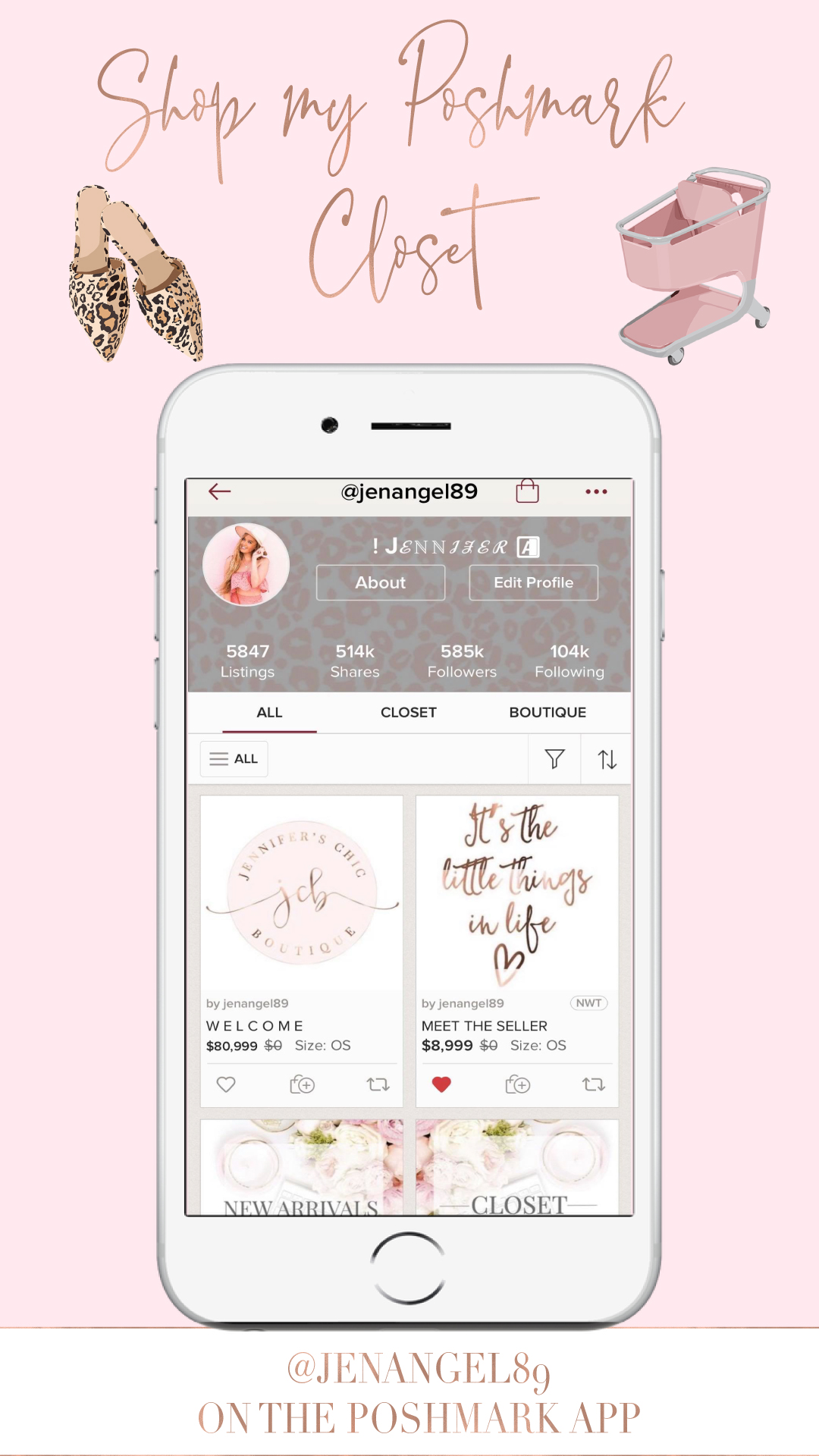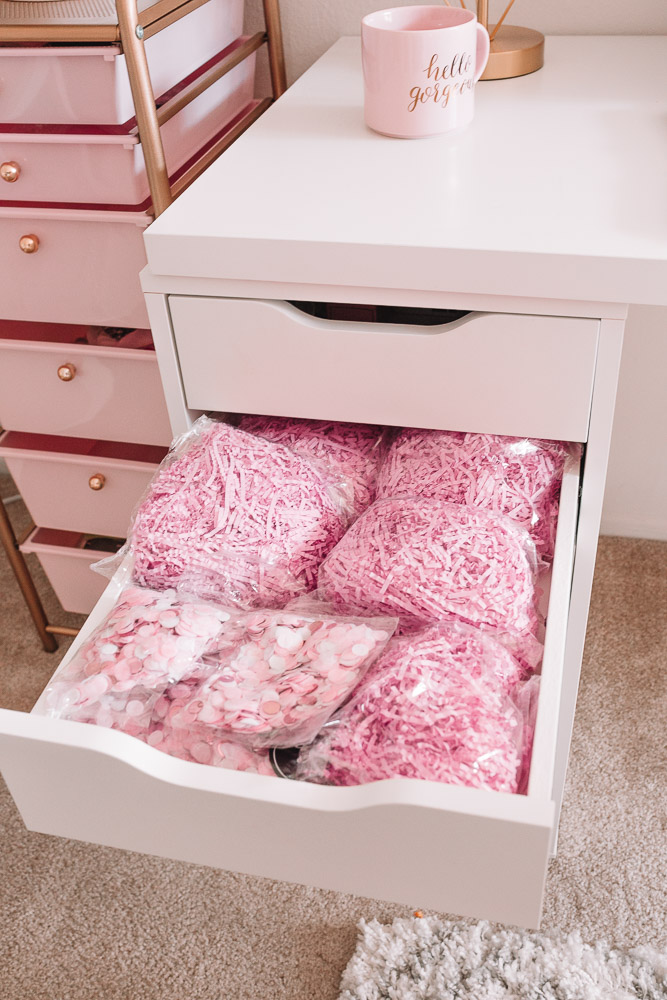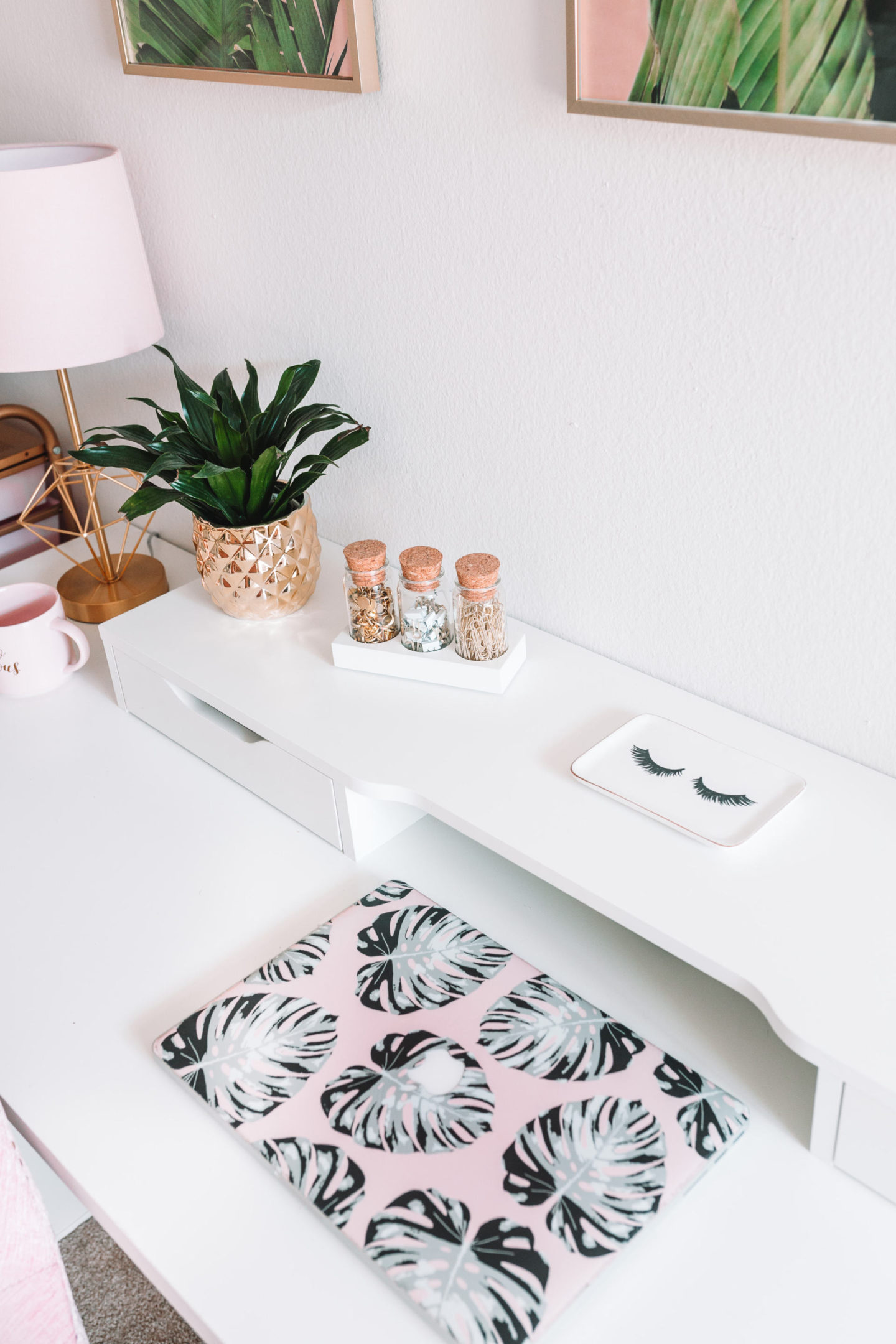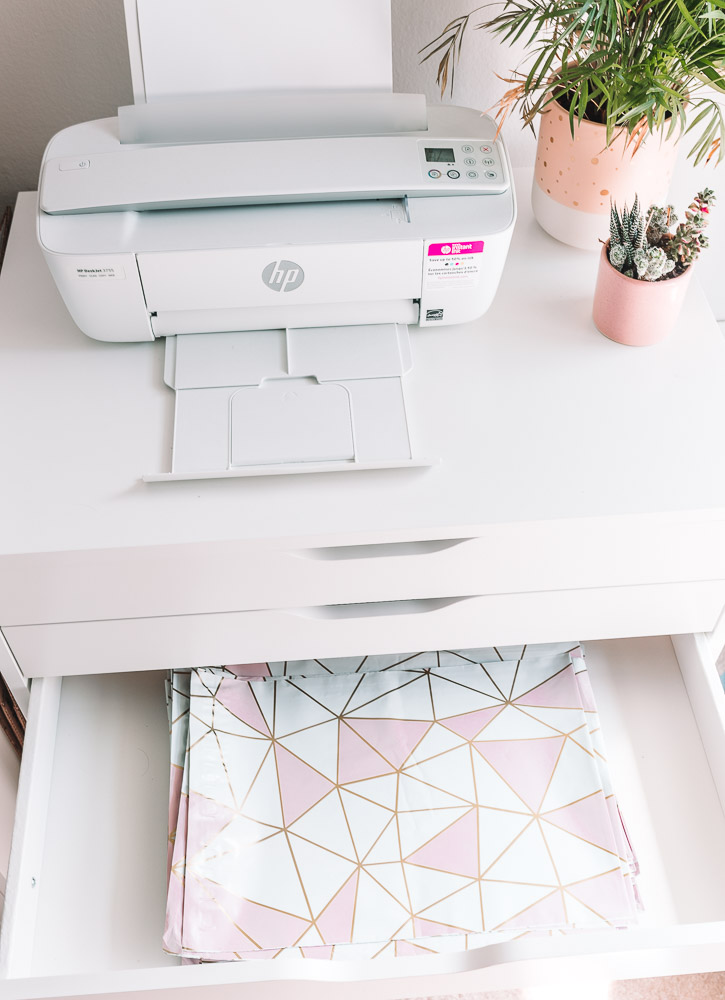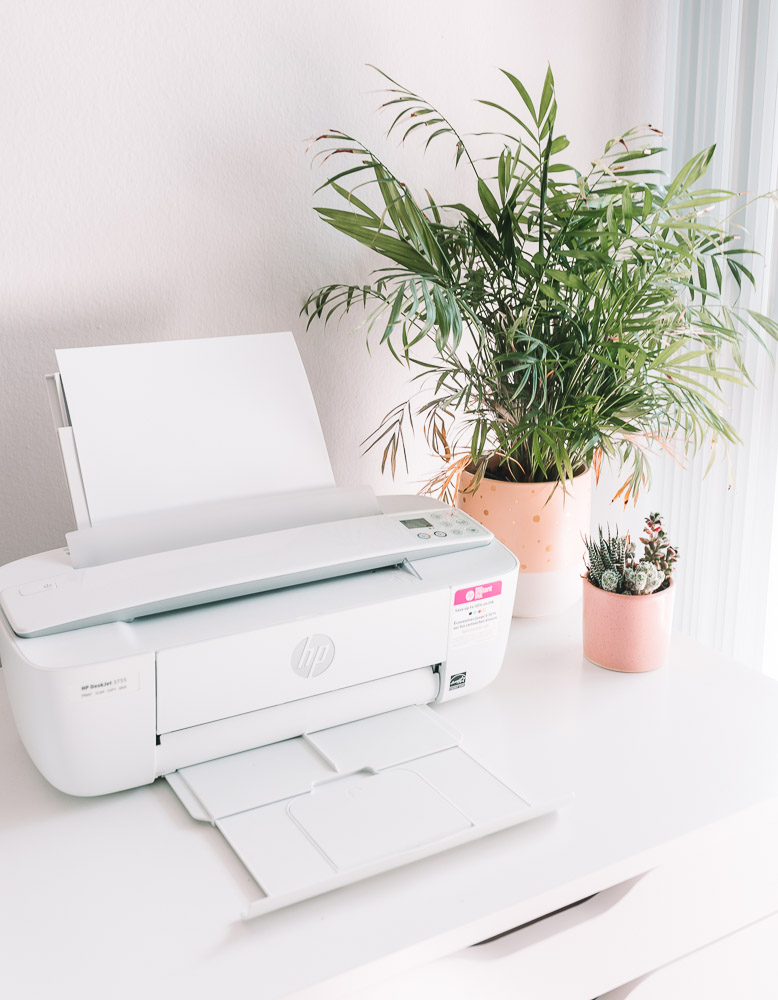 In addition to having a large desk with drawer storage, I wanted a separate area for my printer and mailing boxes. The Ikea Alex Rolling Drawer Unit fits all of my mailing envelopes and medium size USPS boxes. I love that the drawers are pretty wide so it has the ability to fit everything. I'm linking more budget friendly options here and here. Since this area sits right next to the window, I added a pretty blush and gold ceramic plant pot and a mini succulent pot (I made it myself at a local San Diego home and gift store called Pigment.)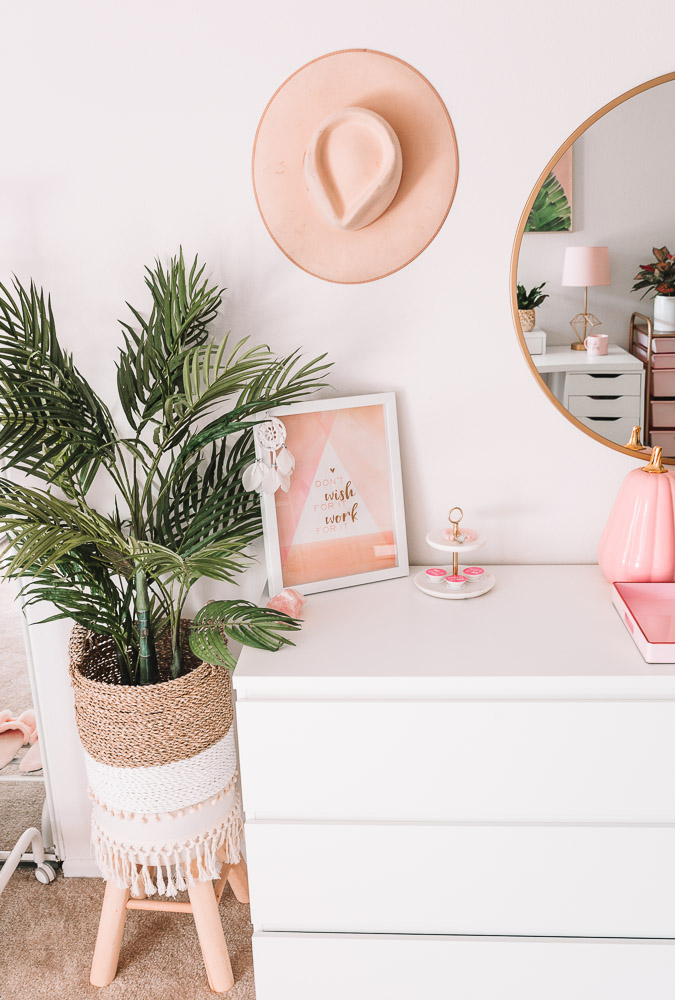 I think this next area of my room is probably my favorite! I honestly had a hard time deciding between bohemian and feminine pink for this room so I picked both! I bought the macrame tassel stool before the palm plant so I wasn't really sure what I was going to do with it at the time, but since the plant wasn't as tall as I initially thought it would be when I ordered it, I placed it on top of the stool so the plant would dangle over the dresser. I love it there now!
A lot of my decor came budget friendly from some of my favorite stores, Hobby Lobby, Home Goods and TJMaxx. Since those stores are always changing out their home decor pieces on a daily to weekly basis, you have to snatch it when you can or else it will be gone! I was also able to find similar pieces online to link for you guys. Shop the post above!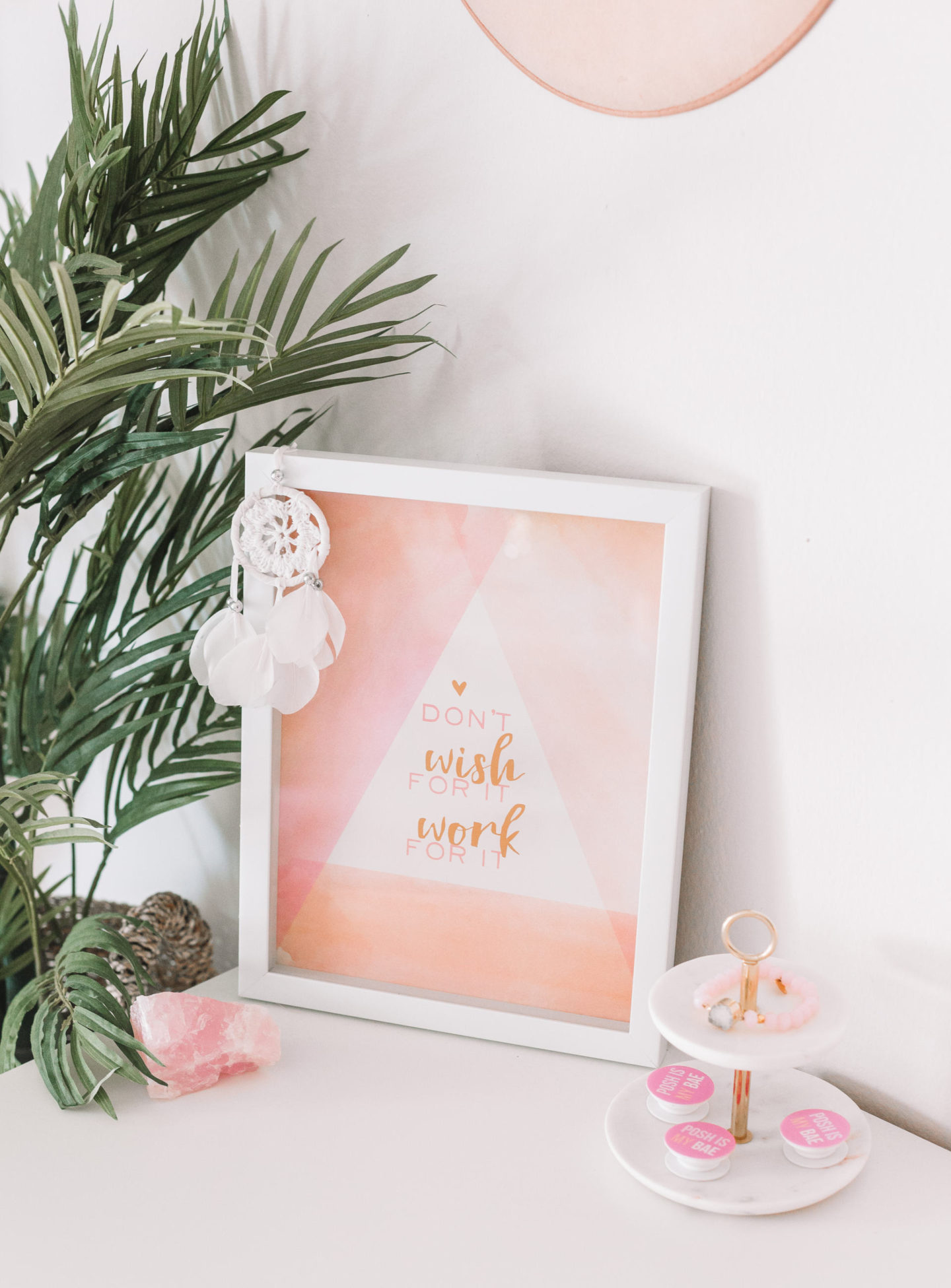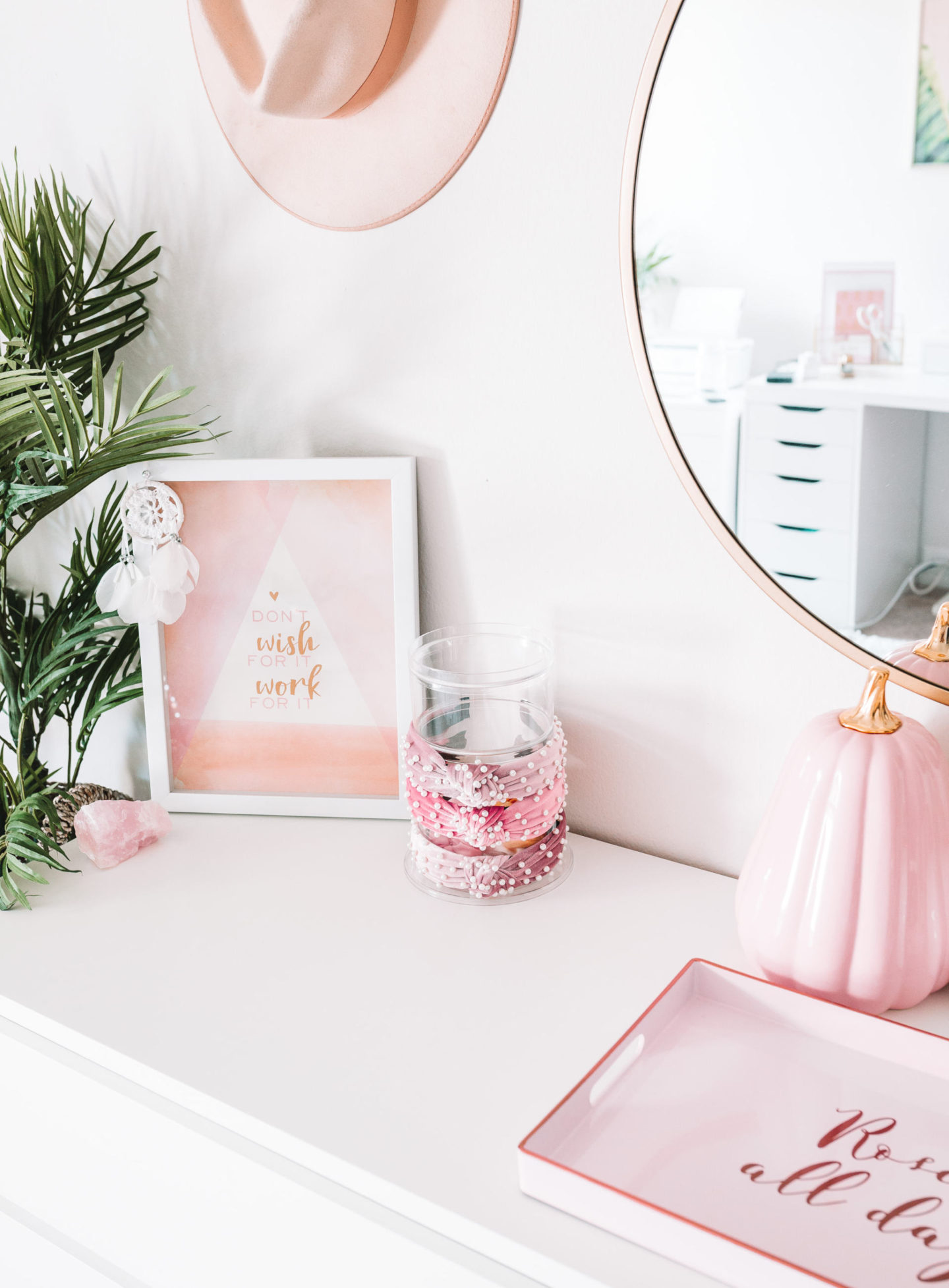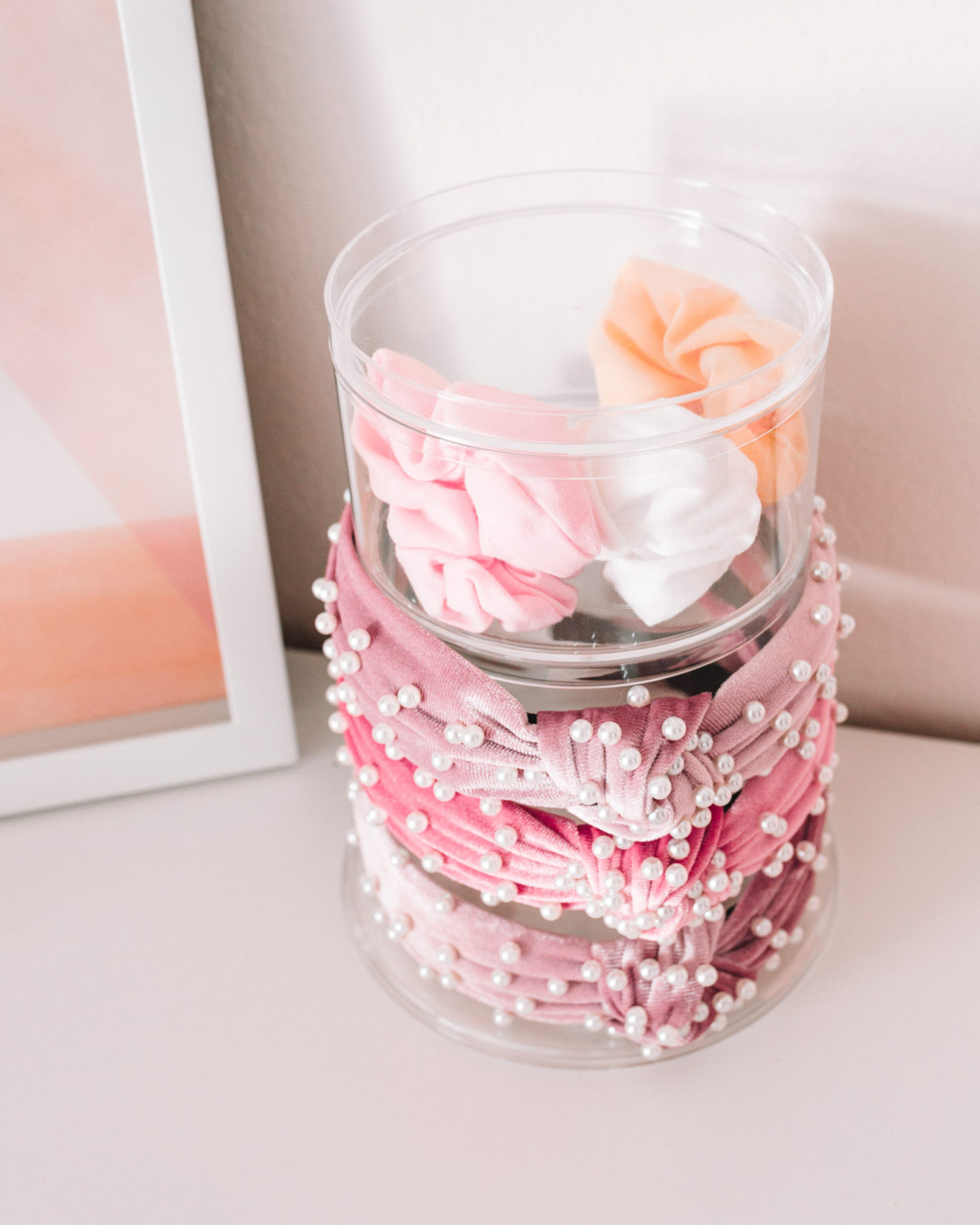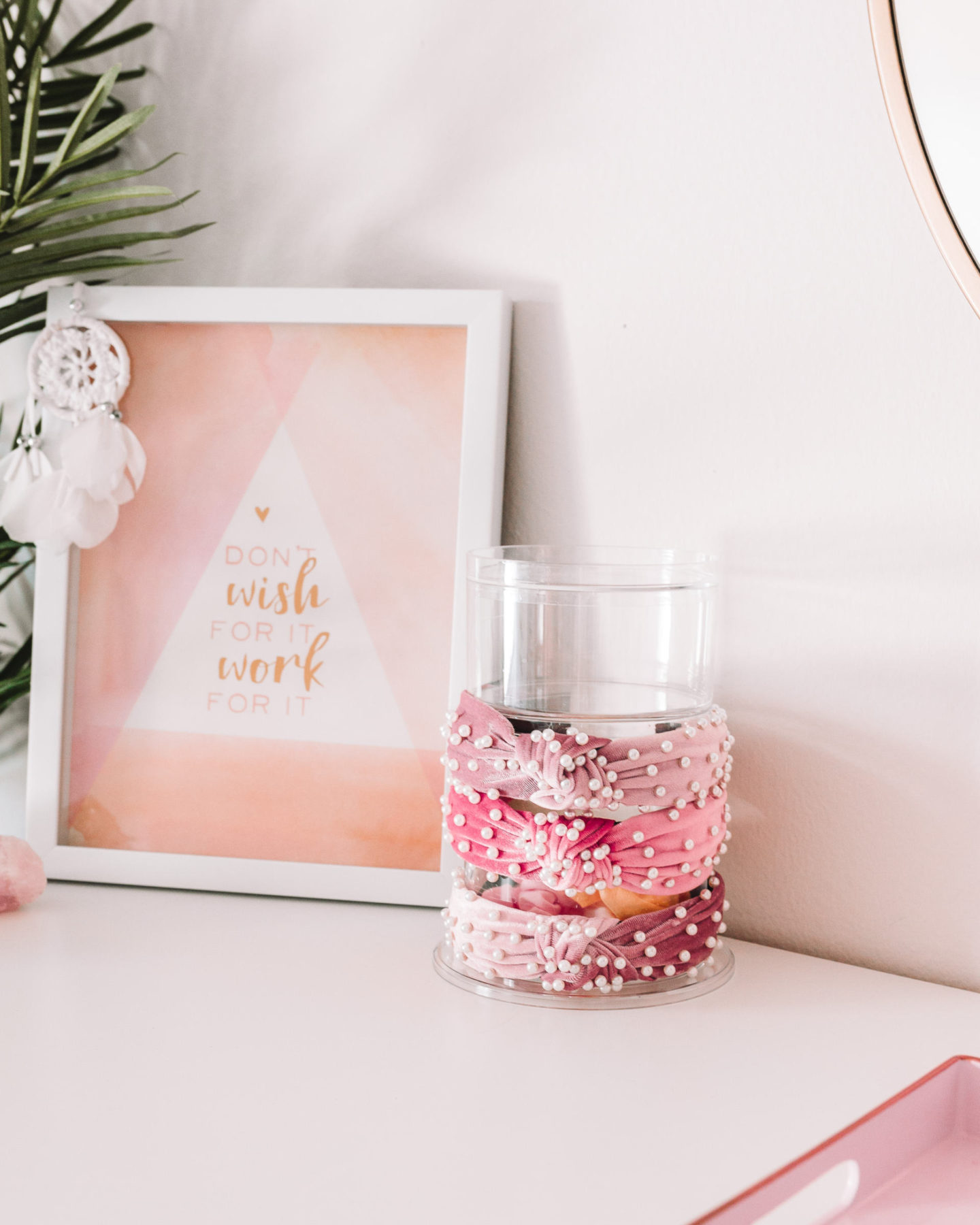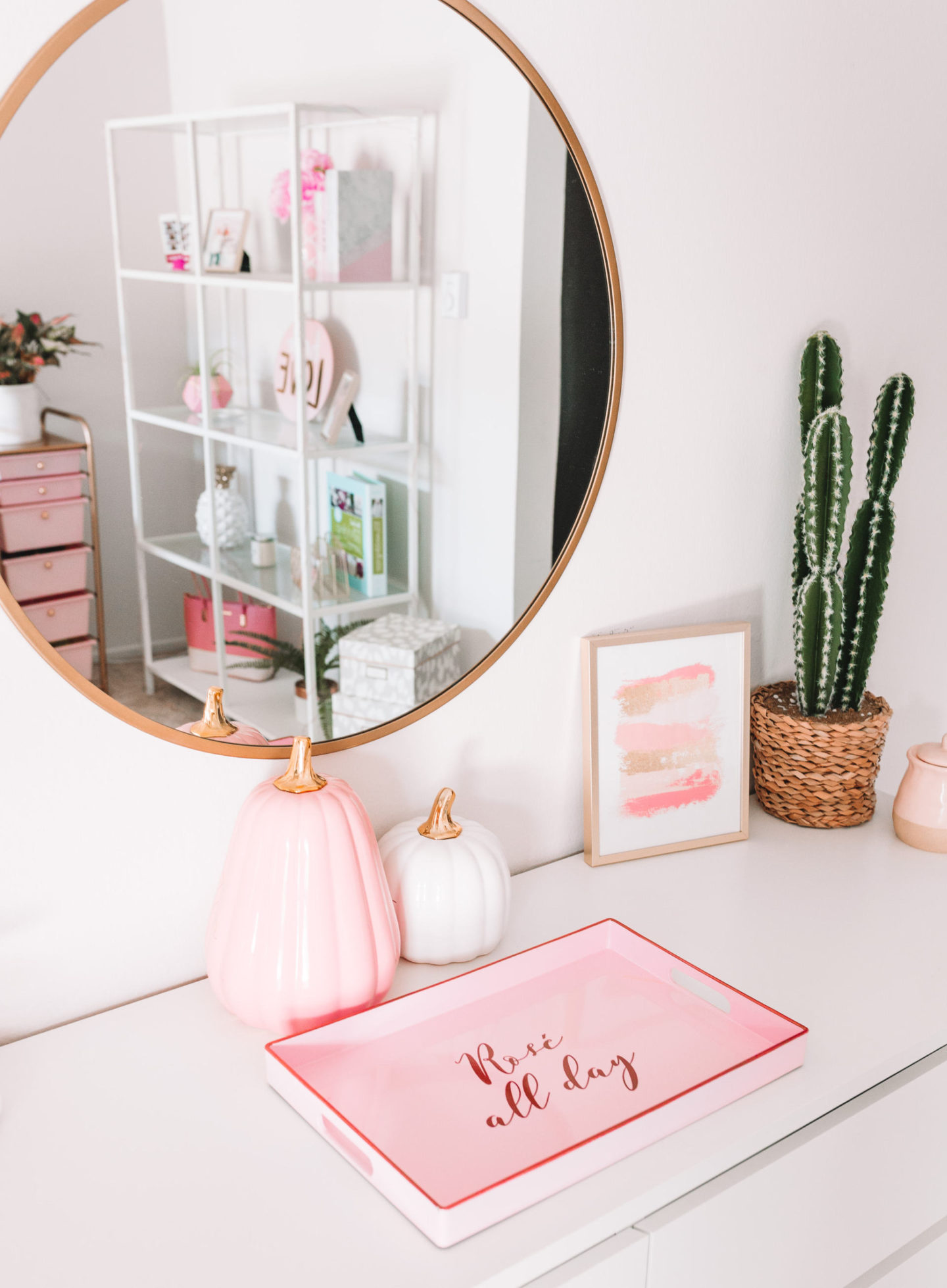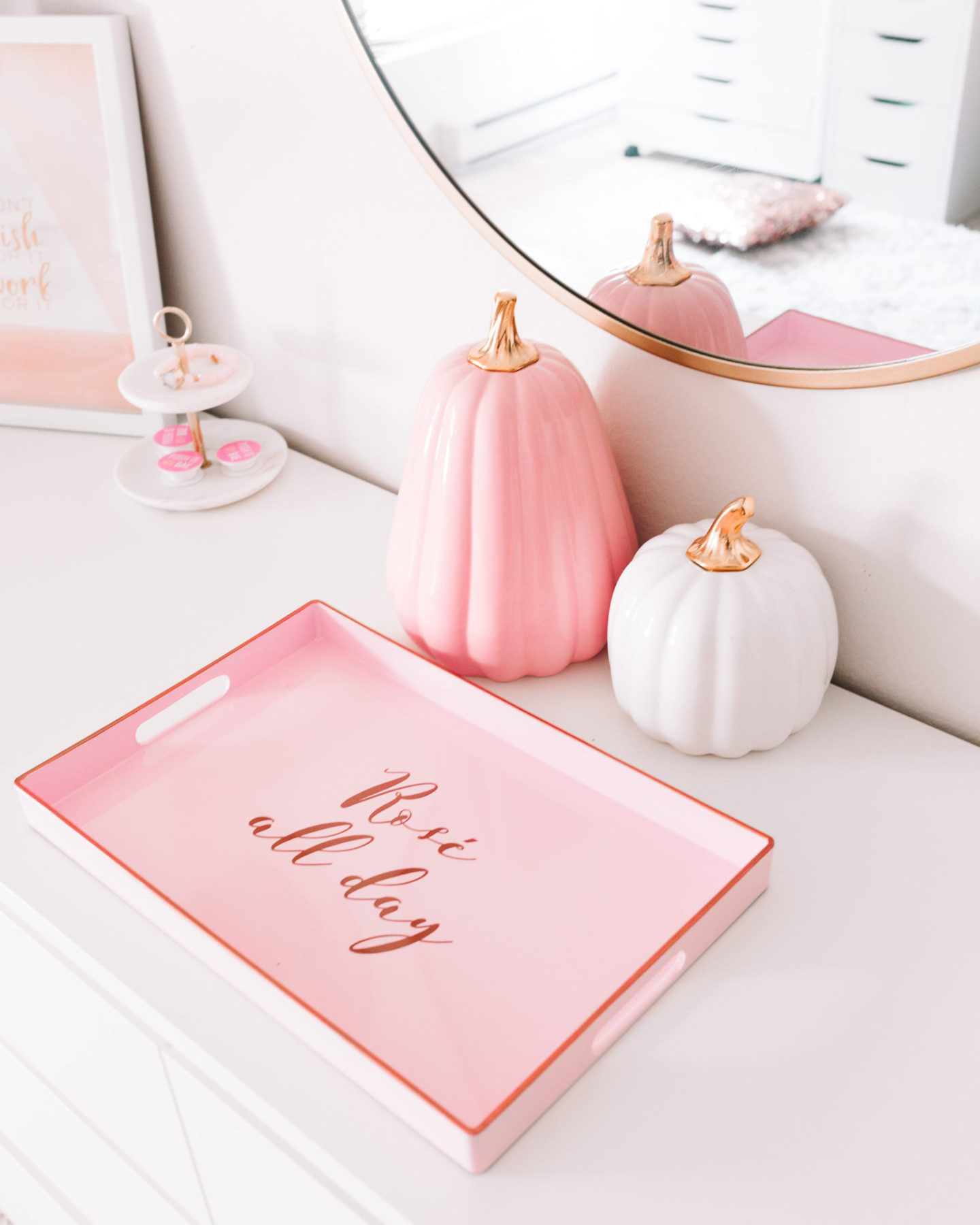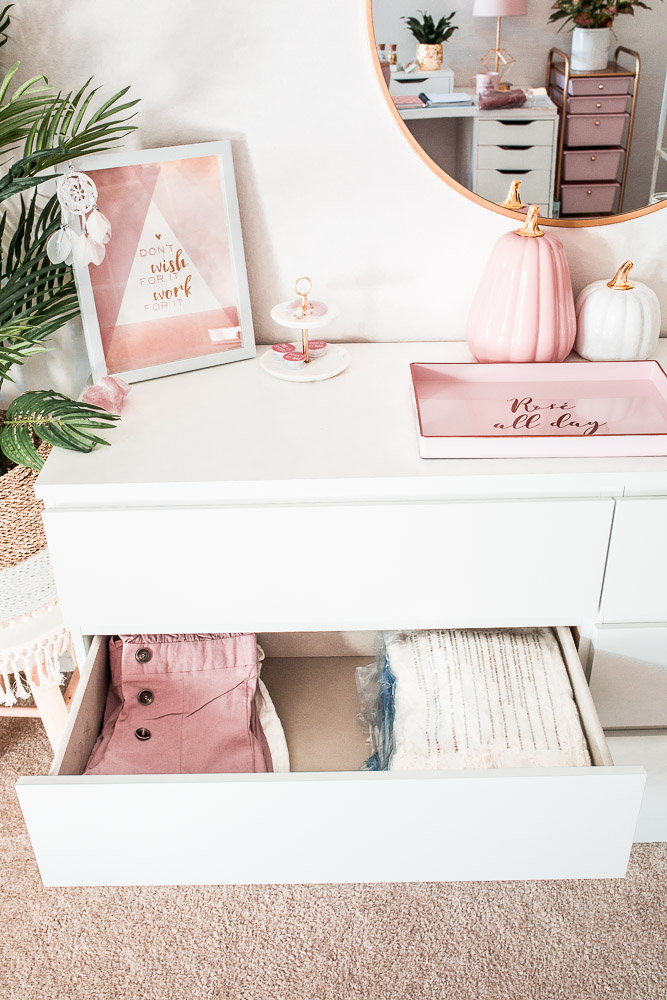 Another thing I absolutely LOVE is my pink letter board! I thought the saying was perfect for pumpkin spice season. I love changing the letters to match the seasons. The other side is gray so if I ever wanted to switch it up a little I could do that, but it's safe to say that pink is going to be the most used side, haha!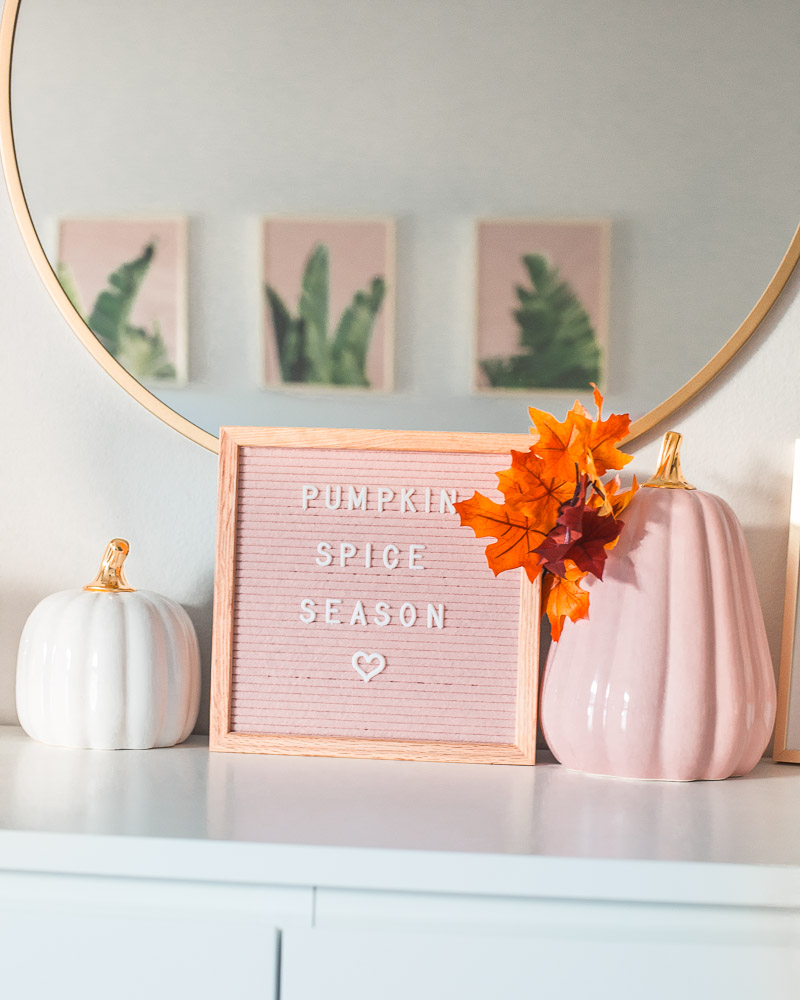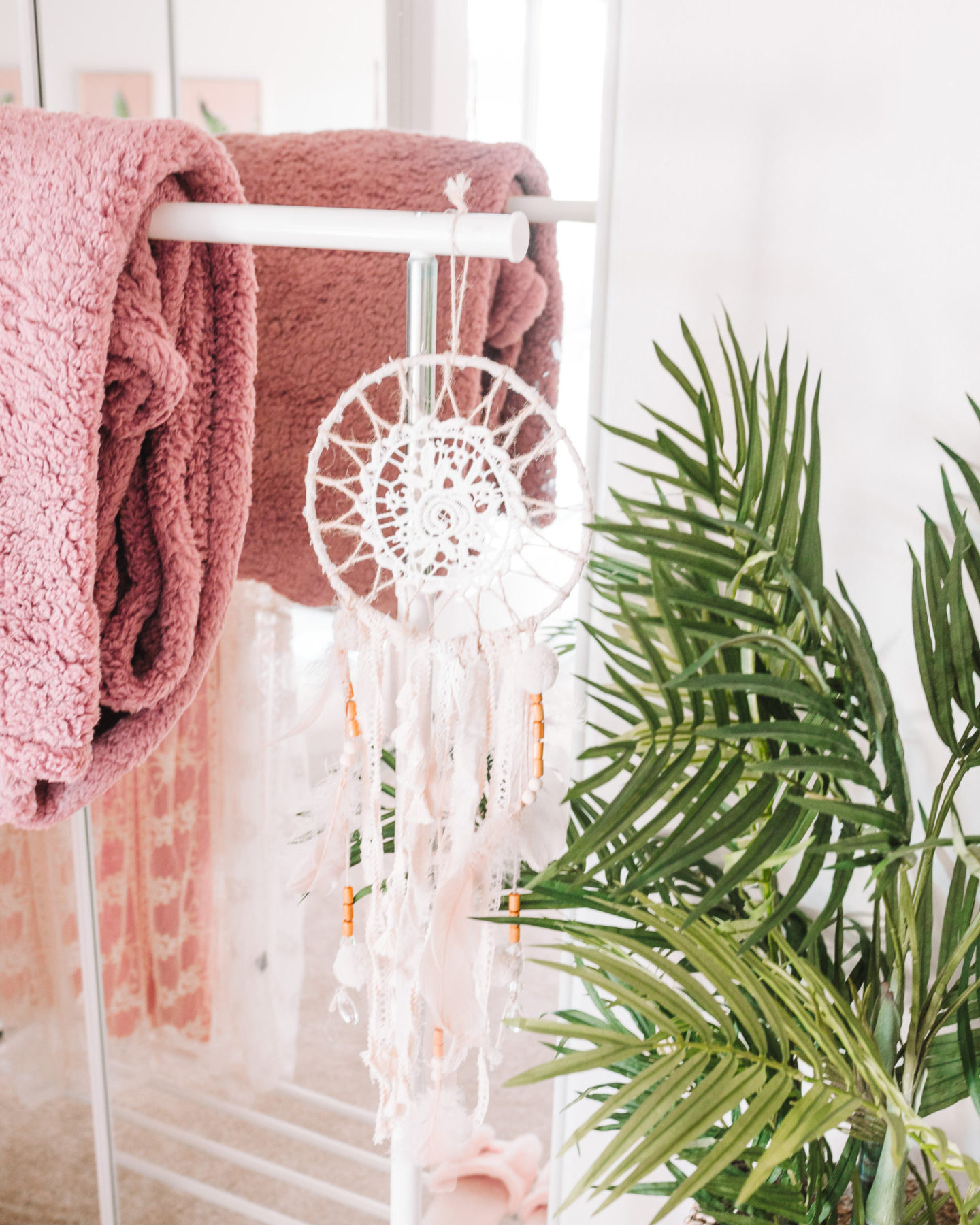 Creating Inventory Space
One of things I love about our apartment is that we have plenty of closet space. I knew right away which room would be turned into my home office because of the large closets with sliding mirrors. I bought a few metal shelves from Home Depot so I could stack bins and keep my inventory organized. Before I moved, I lived in a house with a garage and I basically had my own little warehouse. I miss that so much! BUT, our next home will likely have an extra bedroom and a garage so I'm looking forward to that!
Just outside the closets, I have a rolling Ikea clothing rack. It was really inexpensive and I like having the option to move it around if I need to take product photos. I hang all of my new inventory there that I need to take pictures of that week for Poshmark or Instagram. I also just got the COZIEST, warmest sherpa blanket in mauve from Urban Outfitters to wrap around me on cold mornings when I'm working at my desk. I keep it thrown over the clothing rack and just grab it when it's chilly. I got the sherbet color for our living room, it's so nice to cuddle up in it!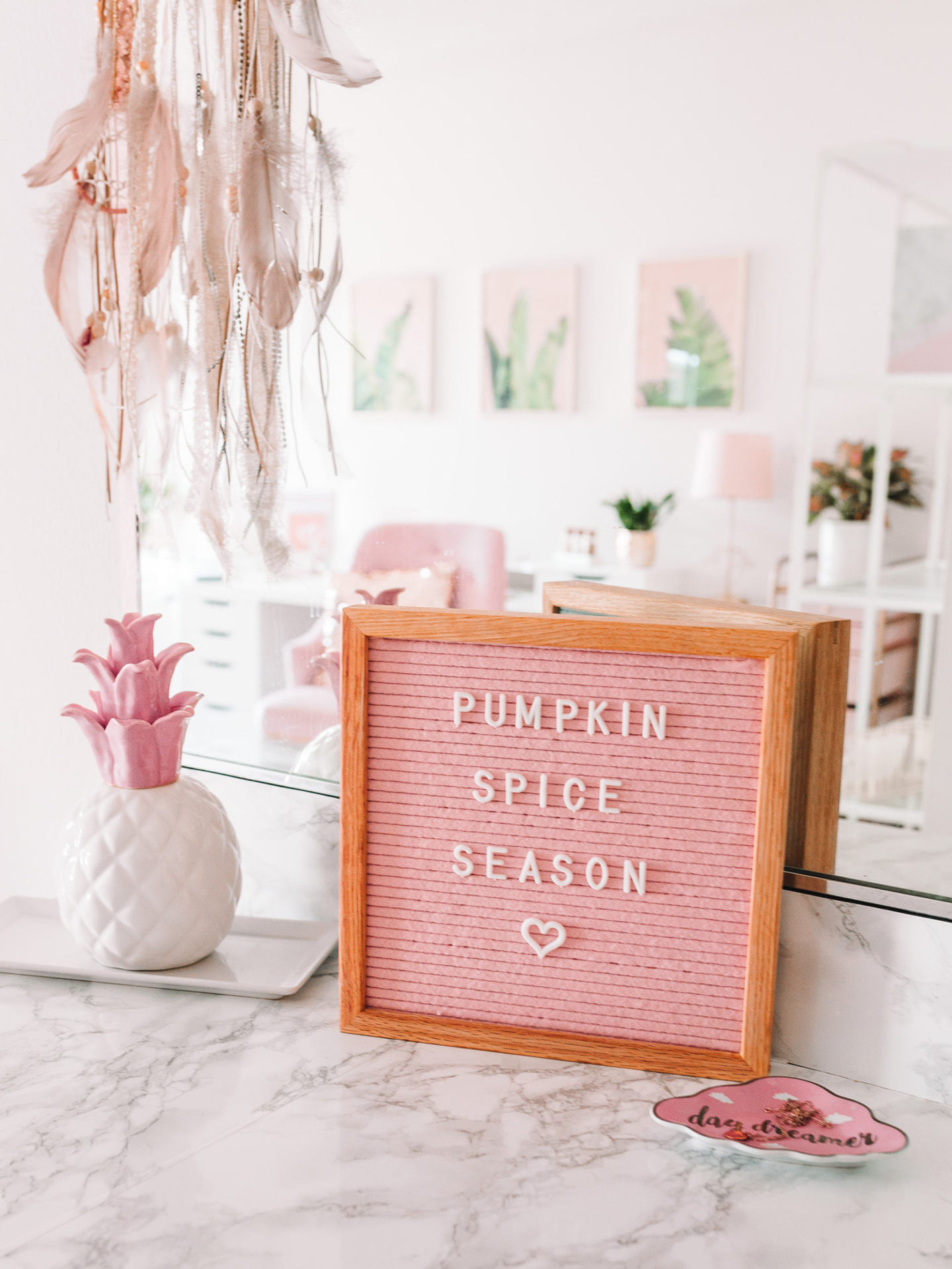 The other neat thing about my home office is that it connects to my own bathroom! The sink area is actually a part of the room while the shower is in a small closed space. I painted everything in there pink, but I need to figure out a better lighting situation before I can show you that space! When we moved in the sink area was black.
That was an absolute NO-NO! I found some inspiration online and was able to cover everything myself with a durable marble adhesive! It peels right off and it's great for renters. It took two rolls to complete the entire sink. I also covered the kitchen with the one. Such a fun project!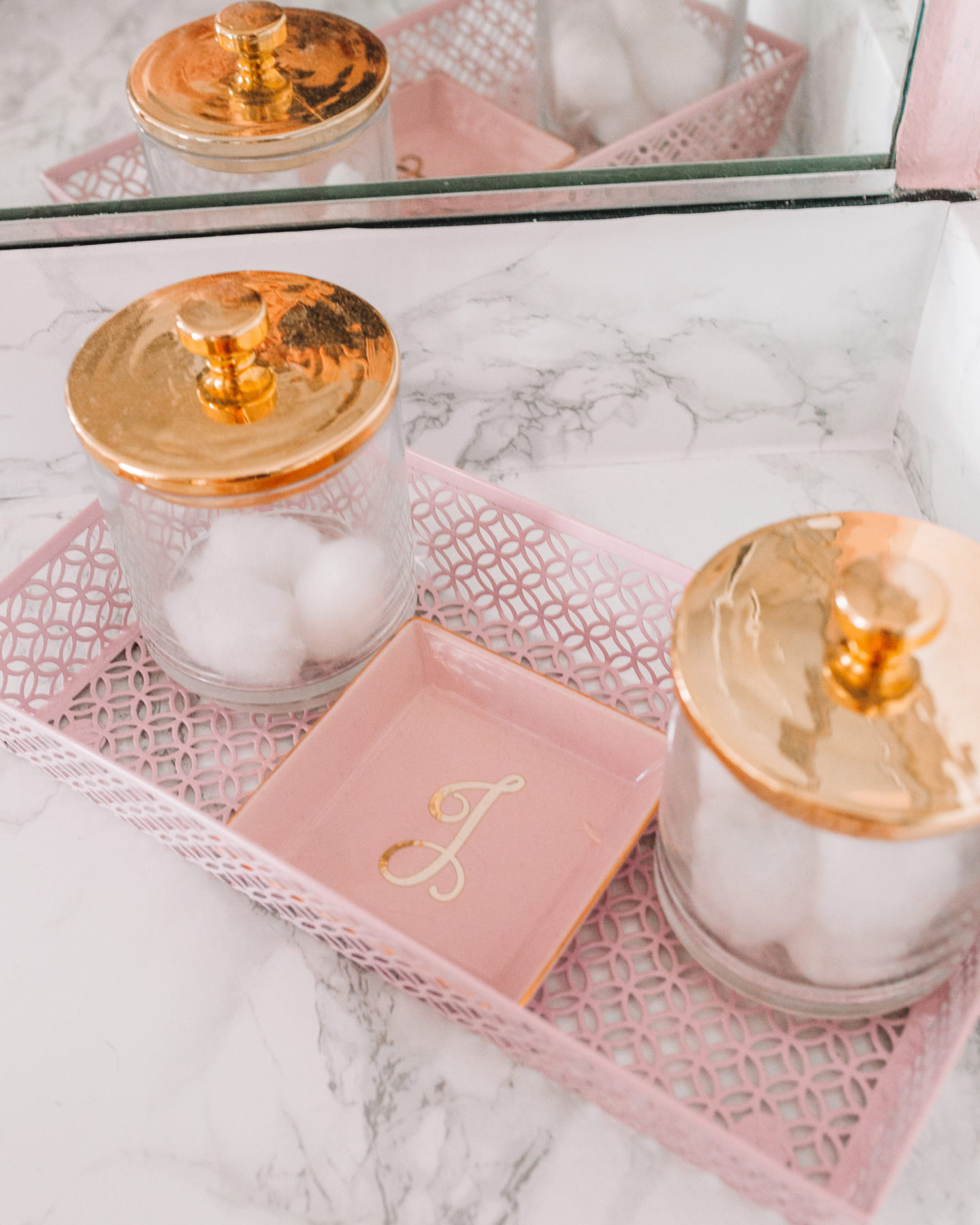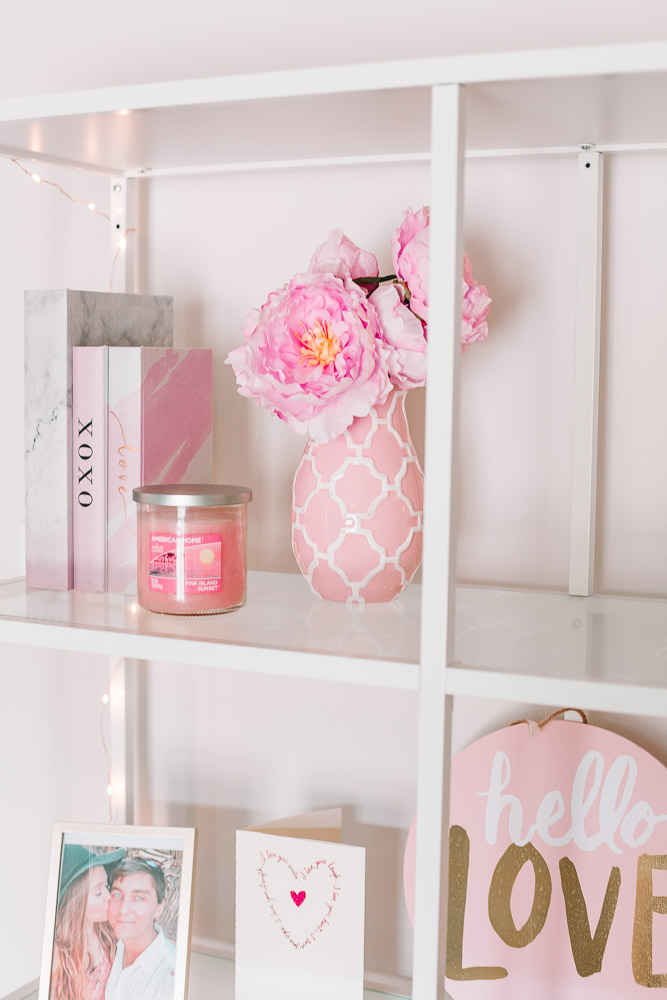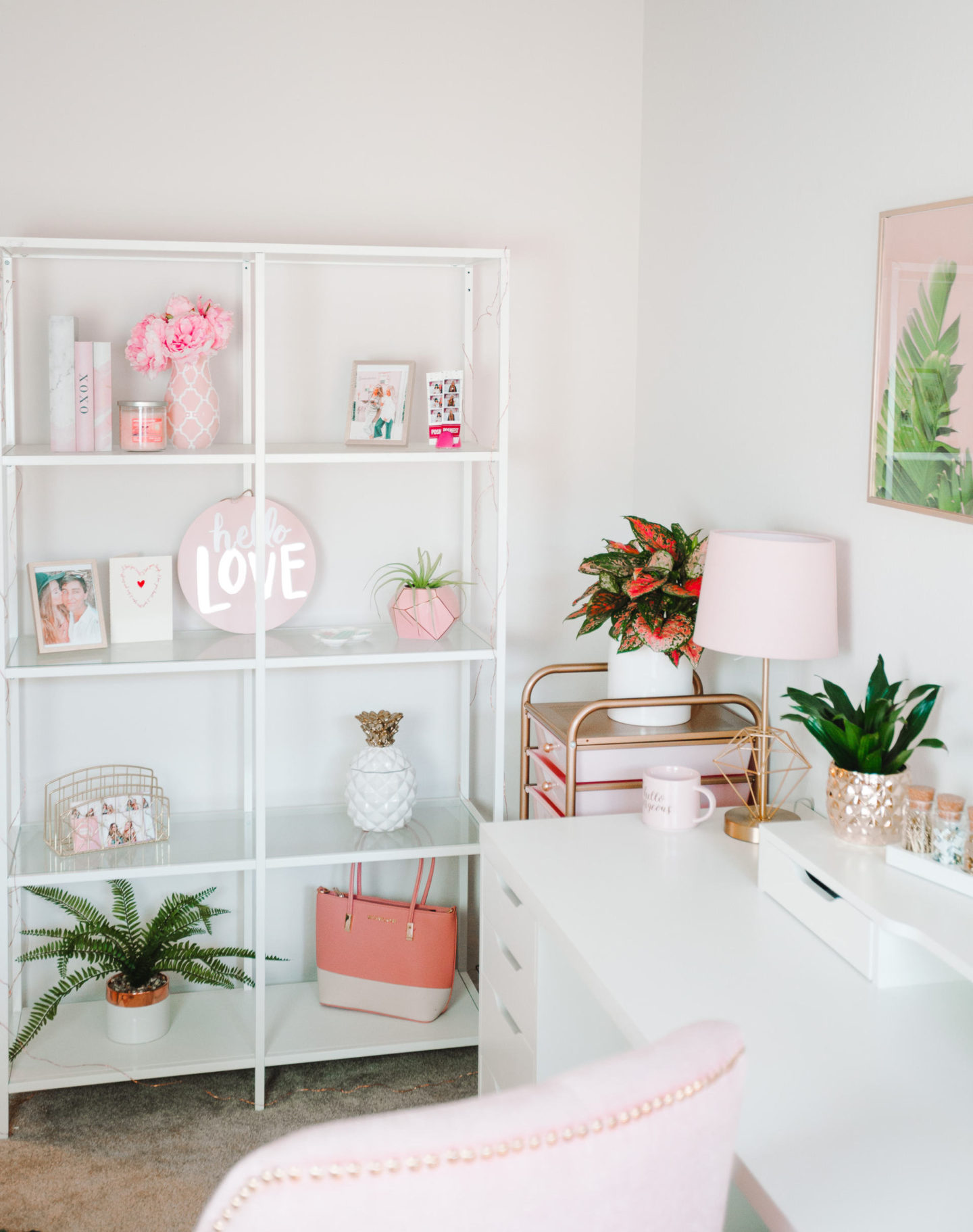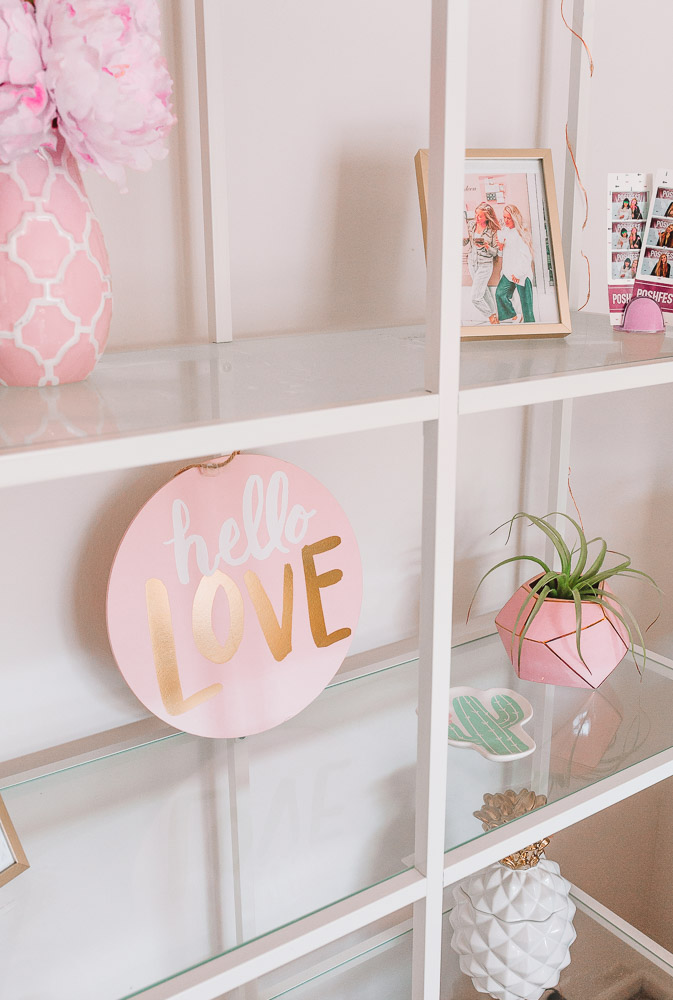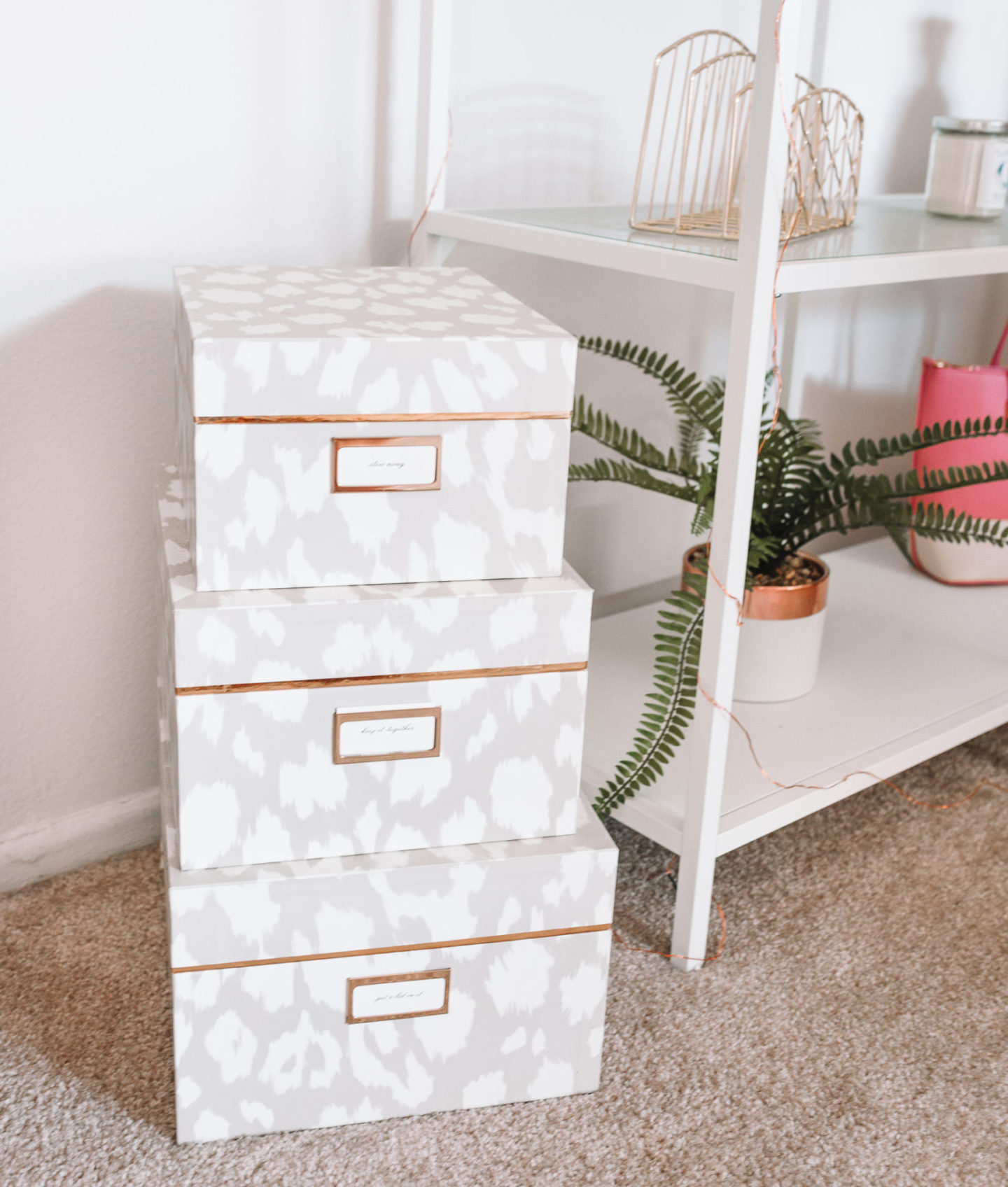 These are my FAVORITE nesting boxes from Kate Spade! I've had a lot of questions on where to find these, but they've been out of stock for a long time. Some people have mentioned that they find them at Home Goods now and again. Just in case they do come back in stock, I provided the link above. I hope you enjoyed my blush and gold home office reveal. Feel free to pin the images to come back to my blog or this post later. Cheers!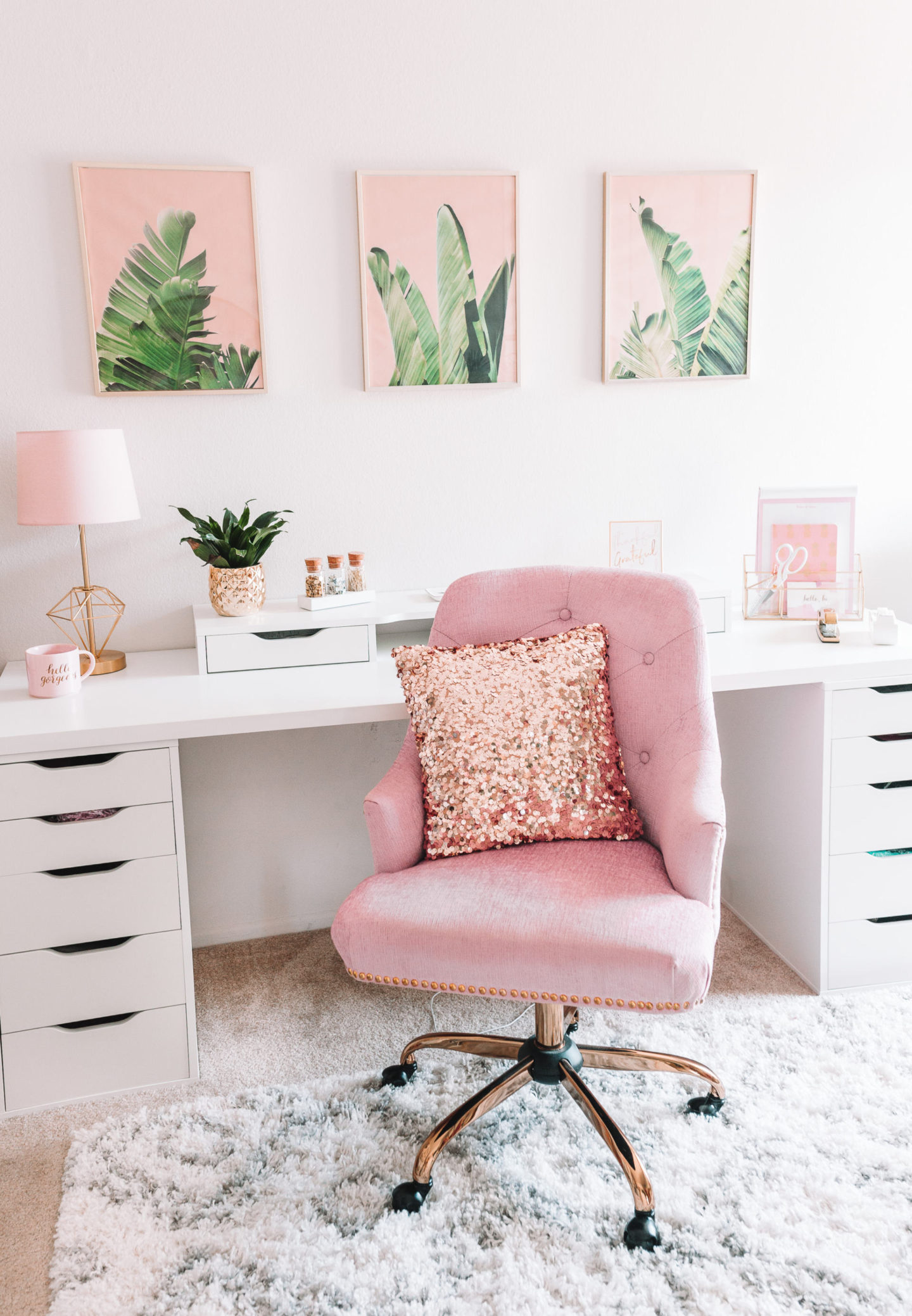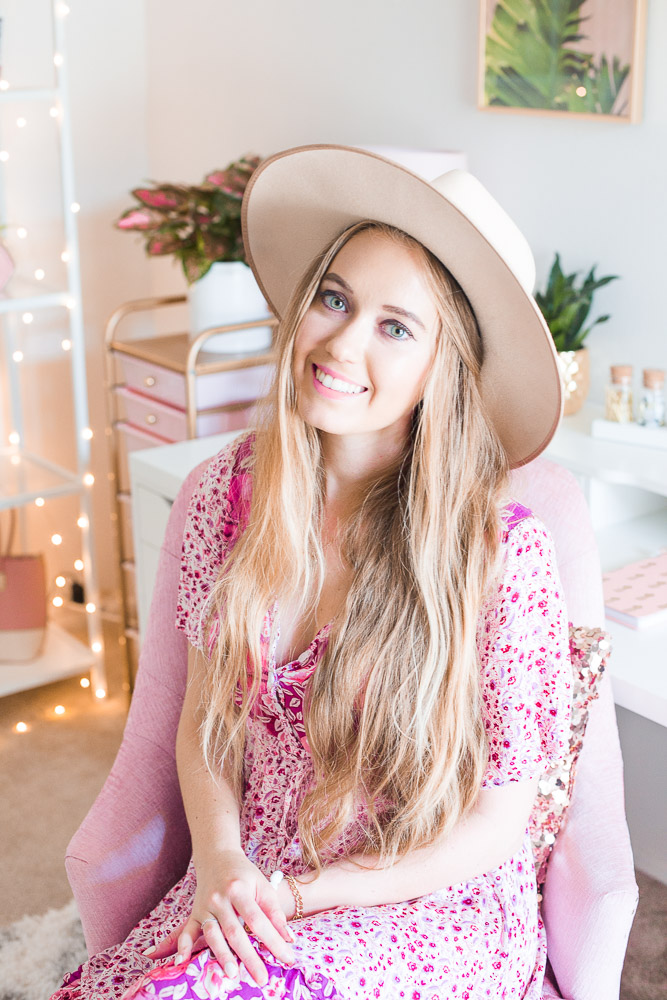 SHOP THE POST